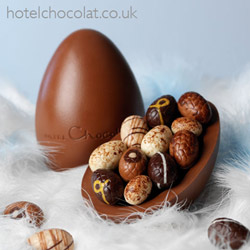 Blogging and being greedy (polite people call this an interest in food) has paid dividends this week. An email slid into my inbox. It politely enquired whether I would like to receive and possibly review the Hotel Chocolat Easter Egg filled Egg.
As many of my more generous spirited clients and friends gorge at the HC fountain, I had tasted their excellent chocolate so I hit the reply button within seconds.
We don't do bad reviews. If we don't like something, from a spice to a restaurant, we just don't mention it on The Cottage Smallholder site. So I agreed to sample the egg but added our proviso. Just in case.
The egg arrived in a sturdy outer cardboard box. We opened it and dived in. The classy packaging matches the quality of the goodies within. A simple black box contains the egg with a thick ribbon handle for lifting the box. Without packaging, the egg and its contents weigh in at around 430g (just under a pound). Danny separated the halves of the thick shell, revealing seven exquisite eggs nestling on each side.
This is a seriously good egg. The shell is 1.5cm deep in the thickest places. This is a foreign country compared to the cheap eggs with their whisper thin shells and contents secured in a tiny plastic bag.
Danny flexed his muscles and broke off a chunk of milk chocolate shell. The 40% cocoa gives an amazing depth and flavour. The pretty eggs inside are filled with a variety of superb praline or mousse au chocolat recipes. We studied the table of contents to see what we were eating. This came into its own the next morning when I was leaving for work beacuse I knew which eggs I dearly wanted. I was worried. Danny was now in sole charge of the egg.
"If the egg has been guzzled by the time I get back, I'll kill you."
Serious glance. "Don't worry, I won't touch it."
"If you do, please leave me the tiny speckled egg, Number 5, and a decent bit of shell."
"Don't worry, I won't touch it."
"Promise?"
"Promise¦"
Danny is a glutton when it comes to cheap milk chocolate eggs. After Easter he often returns from Newmarket with a bulging carrier bag of remaindered eggs and guzzles them with relish. I adore savouring the occasional mouthful of expensive dark chocolate. Somehow, the Hotel Chocolat egg meets both tastes. It is truly exquisite.
Both halves of the egg are identical, with the same selection of little eggs in each. This gives you two delicious forays. Indulgent guzzling was followed by a more circumspect tasting and swapping of notes.
Give one as a very special present to someone you love¦ but insist in staying until it is opened and shared.
To order an Egg filled Egg go to http://www.hotelchocolat.co.uk/Chocolate-Easter-Egg-Delivery-P450005/. Browse and drool at http://www.hotelchocolat.co.uk.
Update March 31: There are just two days left to enter the Hotel Chocolat treasure hunt – this is being hosted by http://www.spittoonextra.biz/win_a_hotel_chocolat_hamper.html#more there are lots of hints to help you with the answers and you could win a luxury hamper worth ?50…
Leave a reply