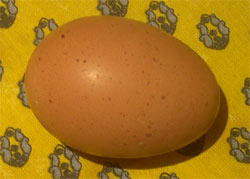 If only there was a standard answer.
We often are asked this question. Danny reckons that it's school children researching a project. I suspect that it's grown up chicken owners that are gradually being driven crazy by the fact that their point of lay chickens, bought six months ago, have never ever laid an egg.
I've been there. We bought six hens, expected six eggs a day, promised eggs to our nieghburs. Five months later we collected our first egg.
Apart from our nifty little plastic hen that sits on the table at Easter and obligingly crouches to lay a small chocolate egg each time you press her back, real hens lay on a cycle of roughly a day at best. These are the hens that are bred to be layers. Our Pekin bantams are not great layers but, like Mrs Boss they go broody easily and can be great mothers if you want to breed. If you don't want to breed and just want your hen to lay eggs this can be a nightmare. You can find out how to get over the problem of a broody hen here.
Perhaps it's because we grew up on fairy stories that we expect all our hens to lay at least an egg a day. A golden egg would be good too, every now and then. Our hens tend to go off lay from October to January. It's a very long break. This year it began to seem like an extended famine. Both my patience and the arm that lifts the lid of the nesting box were easing towards repetitive strain injury. This morning I nearly didn't bother to look – the empty nests are so disheartening.
But, ever the optimist, I took a peek. Carol had laid a long brown speckled egg. I plucked it gently from the nest and rushed back to the house to announce the good news.
The first egg of the year is always a delight, almost as good as a golden egg and far more tasty.
Leave a reply