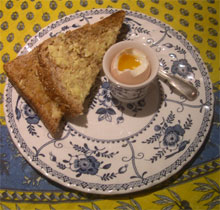 This desperate string of words comes up a lot on search terms that have led people to our site, particularly at this time of year.
People buy pullets in the summer and expect an egg a day from all of them, immediately. We made the same mistake. Our first six months of keeping hens was just husbandry without the egg tithes. We couldn't understand it. They had a big run, good food, fresh water every day. They also had The Ritz (a hen house version) to roost in and a quiet, snug hay filled nesting box in which to relax and lay eggs. Every day, after they arrived, I checked the nesting box. I was amazed that I didn't get repetitive strain injury, as I checked at lunchtime and in the evening as well.
We bought our first six bantams in August 2003. Not a single hen had any interest in the nesting box, it was left totally undisturbed. When I lifted the hatch and spotted the first egg in January 2004 I rushed back to the cottage and considered ringing The Times. Danny was suspicious. He examined the egg carefully and announced,
"It's the first one. It may not be quite right. Throw it away."
I boiled it gently and enjoyed the freshest egg that I had ever tasted.
The wait for eggs can be a long one. If you bought your hens this summer and still have no eggs you are likely not to have eggs until January. You are probably doing nothing wrong. Possibly the hens that you bought were immature. Carol hatched on April 23 2004 she laid her first egg early in January 2005. She is a Maran, a laying breed. This does not mean that she will lay 365 days a year. She came into lay in January about a month after December 21st when the days start to get longer. She lays an egg a day until the end of August. The egg laying gradually tails off to a stop around now. She is moulting a bit and will now rest until January. And why not? Even hens need holidays.
Carol is over three years old. A younger hen would probably keep on laying until October. That's why loads of people knock the two year old hens on the head and replace them with pullets. Younger birds, when they start to lay, are more proficient in their egg laying. And their egg laying window is longer, with a higher yield throughout the egg laying season. Until now, Carol has rewarded us with an egg a day when she is in egg laying mode. Next year it could be an egg every other day.
Carol, like all our chickens, is a pet. She will live with us until the end. All our hens have stopped laying for this year apart from one four year old bantam. She is laying for England. Small, sweet eggs that are stashed in the larder and soft boiled for breakfast on days when we need the extra voompf that only an ultra fresh egg can give.
Leave a reply