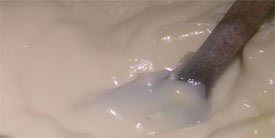 I loathe making béchamel sauce.
But it's delicious and useful and can pull round a flagging handful of dreary ingredients.
So I left work early and immediately began to make six pints of the stuff. Not a sado masochistic culinary whim. I found 6 pints of milk for just 25p on a late night shopping expedition a few days ago and I am on a super cost cutting regime.
Making six pints of béchamel sauce was a doddle. It took about 15 minutes longer than making just one pint and has saved me loads of time. The scary thing is that I hadn't realised that if you buy 6 pints of milk in one pack/bottle at the normal price you save 30% over three 2-pint bottles. That discovery inspired us to consider buying food in bulk. I knew that packagng was expensive. I had no idea that it could impact so much on the price of milk.
Having survived the 2007 non flower buying challenge I have decided to not buy flowers again. Ever. A chill crept up my back when I typed that. I saw some wonderful tulips today and for a split second prepared to speed into the shop. And then I remembered.
I have set a tough new challenge for 2008 – I want to cut our weekly outgoings by 25%. That's our food, drink and housekeeping consumables.
I have been working on this for the past year or so, chipping away bit by bit but the boundaries need to be firmed up. I've saved nearly £500 by not buying flowers in 2007. I could save substantially more in 2008. It will be a real challenge – I love good food and wine and companionable supermarkets.
Saving money takes time. If I work six days a week, I don't have time for an extended search of the bargain shops. The warm arms of Waitrose beckon with great food, always fresh and top quality but a bit on the pricey side.
We sat down this evening and planned our tentative campaign. Why visit three supermarkets once a week? With good planning (gulp) the cheaper emporiums could be visited once a month. We are going to withdraw the cash for the shop each week. There is nothing like fingering notes to bring the message home.
Needless to say this discussion developed into bigger plans. These would require military style precision. We need to put feelers out first. Hopefully by next month's post we will have progressed and have exciting plans to share with you. If not they will be interesting.
Leave a reply