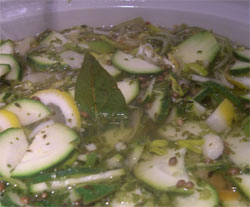 We have done the last shop for January. The challenge is to save 25% of our weekly household bills in 2008. Food, loo rolls, dog food, chicken food, consumables, fish food, grog and anything that we actually buy over the counter.
I have been trying to shave our budget for quite some time now so I knew that it was going to be tricky. We have cooked from scratch for years. We don't buy biscuits or cakes or even plump butter croissants anymore.
If we were not going to spend miserable, on the wagon evenings, huddled beside the heat of a single light bulb I needed to look at our food (cost and wastage) and find a cheaper source of grog.
I didn't want to cut down on the quality of animal feed but I've been investigating our pet food. The Contessa can't eat anything that contains chicken derivatives. Our choice is small on that front but I finally researched buying in bulk. This would give us an instant 25%+ saving. Cha Ching.
The human food required a bit more lateral thinking. Some vegetarian meals could be a great option with the protein coming from beans and pulses. These do not deteriorate quickly like meat. In the olden days, 2007 and before, I would buy a selection of meat. Anything that was liable to go over after a couple of days was tossed in the freezer. A badly managed receptacle. In fact, more of a meat morgue. I am ashamed to admit that little was ever retrieved and cooked before it began to suffer badly from freezer burn.
The change of diet was has been an immense culture change. When I mooted the point with D he was as tentative as an unbroken colt. Danny had lived a short while in a house where the regular veggie experience was less than mouth watering. Since moving into the cottage, he has muttered intermittently about the horrors of nut roasts.
The major problem was that I knew nothing about good vegetarian cooking. When I appealed for help on this site, loads of suggestions flooded in. Thank you so much. One Saturday night I produced my first vegetarian dish (Delia's lentil and egg curry). D fell asleep waiting for the meal to cook and had his share for breakfast. He loved it. I woke to his beaming face, very close to mine.
"It tastes good!"
His spicy, curry breath was overpowering at seven in the morning. But the relief was enormous. We began to amble along a different path every other day. An undiscovered world of tasty cut price meals.
Veggie food is a long seven league stride compared to banging a couple of marinated chicken breasts under a hot grill. We are now starting to work out how to cook in advance, freeze essential elements that will be eaten quickly. Apart from that first curry, all our other dishes are not purely vegetarian. We follow Joanna's advice and use a good chicken stock when we simmer beans and pulses. Our vegetarian style meals have to satisfy an off the wall carnivore with a capital K. We have christened them Veggievore meals.
We have not given up meat. We are just eating less and when we eat it, the pleasure is wonderful.
I haven't saved 25% in January. Totting up the figures it's a saving of just 19% this month. A bit disappointing especially when Amanda has cut her food bill in half, over at Little Foodies. But I do have a larder bursting at the seams with beans and pulses. I bought a lot from Daily Bread, thinking that they wouldn't stretch very far. In fact I now reckon that these packs will last a good three months.
Perhaps I'll be able balance the shortfall in February, this is a year's project after all, and these are our first tentative steps.
There is an extra unforeseen bonus, we are loosing weight without dieting. Even though this has no impact on the bank balance, we are delighted.
Top tips:
Joanna's idea for simmering any beans/split peas/lentils in decent stock
Kay's suggestion of adding Frankfurter sausages, cut into coins, to split pea soup. We have tried these with a flagging bean soup that I wanted to jettison down the loo. Suddenly it was edible. Actually it was delicious.

Top January recipes and cheap foodie ideas on this site:
Emma's vegetarian moussaka (excellent – we've savoured this 4 times in a month).
Skinflint soup
Spicy Creole bean and summery vegetable soup recipe
Polly Bathe's tip – Broccoli stalk matchsticks as an appetiser (comment on Skinflint soup and delicious!)
Top January discoveries:
Angela's suggestion of the benefits of a slow cooker. A godsend (especially for Veggievore dishes). Lentils and pulses can be cooked in advance and we are eating at 8 rather than 10 in the evening. We also cooked a heavenly steak and kidney.
Bart's Creole spice (in a silver tin). Wonderful for pulling round a flagging Veggievore dish. Pricey but well worth the investment as there is loads in the tin.
Looking at savings with an annual perspective rather than a weekly one. ?2.50 a week is equivalent to around ?120 a year. It's very easy to dismiss a saving of a few pounds each week. Added together over a year these savings could finance something really special or just keep you happily afloat especially if you add these to a handful of other shaved savings.
Leave a reply