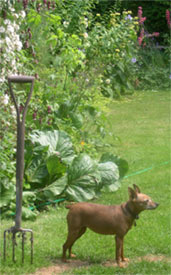 When I was selling toys in Covent Garden the best week of every month was the week after monthly payday.
I realised that the week that Danny puts his sizeable contribution into the housekeeping account our spending rockets. So this month I pretended that every week was the week before pay day and entered a new realm of saving. My horizons were bolted so low that at times I couldn't even see a horizon.
And it worked.
Savings were around 50% most weeks and, once, much lower. Last year I struggled to shave a few pounds off the cost of our weekly shop. I was shopping for what we wanted rather than what we needed. I now believe that if you have a figure set in your mind, you will shop to around that point. The subliminal mind is much cannier than we think.
Prices are jumping up alarmingly. Every week there are a few extra pence on most of the things that we buy. This will rocket in the future once the high oil prices really kick in. If you have a full trolley this translates into pounds. So how can we possibly be saving money?
I'm not cosying up to the suppliers, yet. I'm trying to turn our shopping habit on its head. Dumping ˜the old budget' and just trying to think on my feet. In fact, I have an imaginary poverty stricken friend shopping with me. This penny pinching pal is also living with us. Shaking her head at any waste. Applauding when I can run up a meal out of seemingly nothing. It's a love hate relationship. And a very tight learning curve.
It's hard to admit but people like Danny and me have been spoilt for far too many years.
"Let's buy lots of different vegetables so we can choose what we fancy each evening. Vegetables are so cheap."
Well, they're not.
These days we buy whatever vegetables are on special offer. The chickens get the peelings. We might have to buy more vegetables mid week but nothing is put into the compost bin at the end of the week. The garden won't suffer. It will have the wood ash from the fire that we've been ˜too busy' to scrape out and carry down the garden. We've been very lazy too.
Danny and I can shave our budget with a bit of improvisation and creativity. And it's fun, as every tiny saving racks up with a dazzling pring. We are eating much less meat and, when we do buy it, making it stretch far further than before. Home curing bacon, making our own yoghurt and bread. Switching to tea leaves. And now enjoying quite a few vegetables from the garden. Eating vegetarian meals every other day has had a huge impact on lowering costs.
We have turned down the immersion heater a few more degrees and are now looking at the lighting in the cottage. Why sit in a kitchen with seven halogen lights blazing when a table lamp with a low energy bulb does the job perfectly. Jalopy rarely chugs into town these days. I didn't even notice when Newmarket ran out of petrol during the fuel drivers' strike.
The rise in energy prices is frightening. What about the millions of people living on the breadline in the UK? The majority have poorly paid jobs and have been struggling to make ends meet. They have been budgeting for years. They've no soft edges to trim. How are they going to survive now?
Leave a reply