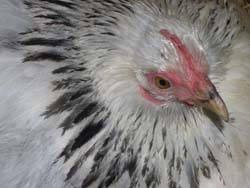 Mrs Boss is one of the original bantams that we bought three years ago. A bantam is a breed of small chicken. As you can see from the photo she is white with pretty black and white feathers around her neck. She reminds me of the portraits of English cavaliers sitting so proud in their lace collars. She also has feathered feet.
When she arrived she was boss, ticking the other hens off if they stepped out of line. But gradually the others fought back and now her demotion is final. She is right at bottom of the pecking order and has a tough time.
Mrs Boss is broody at the moment. This means, as Danny says, "She's in the mood to raise a brood". Bantams have a natural tendency for broodiness but this has become a life mission for Mrs Boss. In a way it's understandable. She can sit in the dark gloom of the nesting box away from the pecking and bullying. The only problem is that if a hen is broody, she does not lay eggs, and Mrs Boss's small white eggs are the sweetest of them all.
How to stop a hen being broody is fairly simple. If you can prevent her from settling comfortably, she will stop being broody within a week or so. Some hens are fine again after thee days in the broody coop; Mrs Boss is a long termer. The trick is to construct a cage with a floor made of large wire mesh (at least 1″ squares). Put the cage on bricks so that the floor is suspended, keeping the bricks to the outside edges so that she can't sit on them. Find instructions here on how to make a broody coop. Provide a small drinking fountain and feeder within the cage and pop her in. She will not be able to settle comfortably on the wire mesh floor and within a few days will get over her broodiness.
Mrs Boss hates the broody coop. When we give the other hens treats, such as corn or kitchen scraps, she leaps up and down in her cage in a fury of frustration and rage until she's given her share. When she has served her time and is released, the first thing that she does is have a long luxurious dust bath.
Tips and tricks:
When a hen is broody, the comb on the top of her head changes colour from red to pink. Check the colour of her comb every day when she is in the broody coop. When the comb is red she can be let out of prison and will not immediately return to the nesting box, except to lay an egg. It took me ages to work this out.
If you have a broody hen and don't want to go down the broody coop path, she will probably remain broody for the entire summer. Every morning and evening, it's vital to lift her out of the nesting box, or wherever she has settled, so that she can eat and drink. Broody hens can starve to death if ignored.
Leave a reply