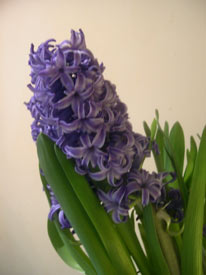 It's my T.S. Eliot time of year.
Three large blue hyacinths loll beside the laptop on the kitchen table. Their scent is as overwhelming as the weight of their waxy flower heads. My old edition of Eliot's complete poems is just out of reach. Slim and tempting and almost as worn as the hands that turn the pages.
The book now smells musty. I have opened its covers and dived in for nearly thirty years. The long intermittent journey has been more startling and intriguing than most.
Hyacinths and The Waste Land are a heady mix. This evening I found this old favourite extract. Basked and thought of summer. Standing very still to soak up the scents, sounds and secrets of our garden.
"We shall not cease from exploration
And the end of all our exploring
Will be to arrive where we started
And know the place for the first time."
Extract from Little Gidding (Four Quartets by T.S. Eliot).
Leave a reply