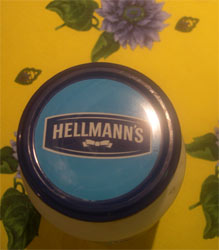 When I think about Hellmann's I remember that old commercial. A hungry man finds a stale crust of bread in the fridge, spreads it with a dollop of Hellman's and munches with a beatific smile.
The commercial worked for me. I bought some and, although it didn't seem to have quite the same effect on stale bread, it was delicious.
Danny was happy about the 2008 challenge (cutting 25% of the shopping bill) until I thought I'd really test his enthusiasm.
"We eat an awful lot of Hellmann's. I think we should go back to Blakeley's."
"Not the stuff from Netto?"
"It's less than 50p a jar."
D is a Hellmann'saholic. I've tried giving him other supermarket brands and they are met with a snort or hunched silence.
But it does mean that a jar lasts a long time.
When I first bought Hellmann's Danny spotted it in the larder within a nanno second. He broke the seal, opened the top and dived in.
"I've been dreaming about that for some time."
And then he put it in the fridge.
The last move was just for show. It barely needs to be refrigerated as it is savoured with salads, sandwiches, home made burgers and dolloped on chips. Coleslaw is D's favourite salad. Need I say more?
Apart from creating a massive dent in our shopping bill it was having the reverse effect on our waistlines. So I switched to Hellmann's light (60% less fat). I found D examining the jar, teaspoon in hand.
"Good but it just doesn't have the depth of the original."
Perhaps it's time to start making my own homemade mayonnaise. This would be cheaper and presumably even tastier. Does anyone have a good recipe out there?
Leave a reply