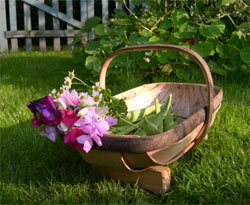 We have had bumper crops of runner beans for three years now. I am sure that part of the reason for this is because I have planted sweet peas with my runner beans. The combination is beneficial for both. The scented sweet pea flowers attract insects and this increases the pollination and yield of the runner beans.
They are perfect companions. Both are greedy and flourish in a border rich in home made compost. They need quite a bit of watering so the automatic watering system is doubled in this section of the kitchen garden. They both need to be picked regularly to extend their harvests. I've also discovered that when I tend one I automatically check the development and needs of the other.
They also look great growing together. When I go down to the kitchen garden to pick some beans for supper I often return with a fragrant bunch of sweet peas as well.
Germinate the sweet pea seeds in small pots, starting them well before planting the runner beans seeds. By the time the sweet peas are ready to be planted out they should be reasonably strong plants.
I set a pot full of sweet peas (roughly 5-6 plants) in between each of the runner bean canes on the sunny side of the row.
It's a bit late to plant sweet pea seeds now but small pots are still available from nursery gardens. If you are lucky you might find them for sale on a wayside stall.
Leave a reply