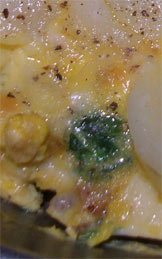 Frittata. The word used to freeze me to the core. It meant nasty, yellow rubbery slabs. Now the suggestion is welcomed with open arms since we were introduced to Anna's brilliant potato frittata. We've guzzled them every week since then.
A great way of using up a glut of eggs as well as being true instant comfort food. If you are prepared, a tasty frittata will be on the table in 20 minutes. (If Someone Else lays the table, polishes the glasses, prepares the salad and opens the wine).
Last week I was determined to use up the last of a giant pack of spinach and wanted to play with the proposed frittata. I fried the beast in the fat of some of our home cured bacon, having added the bacon, spinach and squares of matured cheddar to the whisked eggs. The customary potatoes were laid on top with a scatter of cheddar.
Danny was silent when he sampled it.
"Well, what do you think?"
He looked up and smiled as he cut another slice.
"Your best frittata ever."
Spinach, bacon, cheese, eggs. Traditional and delicious.
Indulgent spinach, bacon, cheese and potato frittata recipe
Ingredients:
100g of lardons (we used home cured ones, chopped streaky bacon slices will do at a pinch)
2-3 medium potatoes, peeled, sliced and cooked until soft
2-3 tblsps of chopped parsley
6 large eggs
200g of spinach
50g of mature cheddar cheese (cut into squares)
15g of grated mature cheddar (topping)
2 tblsp of olive oil
1 fat garlic clove (chopped very fine)
Good twist of ground black pepper
Method:
Fry the bacon lardons in the olive oil until crispish (soft on the inside, browned on the outside). Peel and cook the potatoes. When the bacon slices are ready, set them aside. Meanwhile prepare the other ingredients.
Wash and wilt your spinach (the wash water will cling to the leaves.) Pop into a large saucepan (lid on) for 2-3 minutes until they wilt. Remove, wash with cold water and strain in a colander.
Chop your cheese, whisk the 6 eggs with a fork and chop your herbs and add them to the eggs along with the other ingredients.
Heat the bacon infused olive oil gently in a large sauté pan. Add the finely chopped garlic. When the oil is hot and the garlic golden pour the beaten egg (with the chopped cheese, bacon, spinach and herbs) into the sauté pan. Immediately turn the heat down to the lowest setting. After a mnute or so arrange the cooked potato slices over the top, sprinkle the grated cheddar and leave for 15 minutes. Do nothing. Set the timer for 12 minutes!
When the timer goes off set your grill to the highest setting so that it will be sizzling when you transfer the frittata from stove top. Finish under the high grill for 30 – 60 seconds.
Serve immediately with a crisp green salad. And some good table wine.
Leave a reply