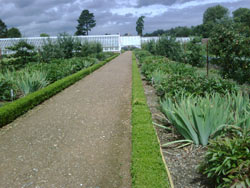 "Lets have an interblog garden visit." Magic Cochin from the superb Purple Podded Peas blog suggested a couple of weeks ago.
Danny was alarmed.
"Does that mean that we've got to weed the herbaceous borders?"
"No it's an outing to a great garden. It's going to be the kitchen garden at Audley End. And we're going to look at the service wing."
"That sounds wonderful."
And it was. I left D happily tucked away in the Rat Room and spent a few hours soaking up the atmosphere of this superb house and grounds.
We examined the newly refurbished service wing. This fascinating restoration focuses on life in the kitchen and service areas of the house in the Victorian 1880's – when the fifth Lord Braybrooke and his family lived at Audley End. Up to 20 staff worked in this large area where whole rooms were dedicated to one task such as ironing, or washing.
We examined a large outdoor meat safe and a walk in game room. The restoration was beautifully executed (even the drainpipes looked authentic) so it was easy to imagine the bustle of servants absorbed in their daily tasks. The attention to detail was stunning, there was even a little stove with a flat metal top dedicated to heating up the heavy irons.
We walked passed some beautiful old stone ponds on the way to the immense walled kitchen gardens and glass houses. Espalier fruit trees, huge tobacco plants (the variety that would have been dried for tobacco) and loads of heritage varieties of vegetables were growing amongst 'picking flowers' for the house and borders of herbs.
The glass houses were stunning and even included a potting shed in the small rooms beside the old boiler room that had heated the glass houses. It would need more than a day to take it all in. But I did take a note of the nifty way tomatoes were grown on string. The string is attached to the base of the stem, curled around the stem and attached to wires running along the roof. There is a small wooden device for loosening and tightening the string. Magic Cochin has made these out of cardboard in her own greenhouse and they work really well.
Magic Cochin was just the sort of companion that one needs for this sort of day out. She had done her homework as well as making all her picnic from scratch (a moorish courgette and sausage frittata and some superb olive and herb focaccia).
We picnicked beside the falconry demonstration that was so good that I forgot to eat for a while. For the first time in my life I understood some of the history of falconry. Before the invention of gunpowder this was the main method of hunting. To get a decent bag you needed a handful of birds as once they were rewarded for killing a quarry they were "dead" for the day. The birds had to be trained like athletes to perform well, needing at least an hour's exercise a day.
Audley End would have been a joy even without my sparkling companion. I was hugely impressed by English Heritage today. I couldn't fault a thing and left planning to return.
Thank you Magic Cochin.
Leave a reply