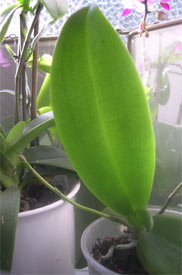 Isolde, our Dendrobium orchid has had five babies this year. The quintuplets didn't come all at once. They have developed gradually. Initially I noticed that she was developing a cluster of leaves on a stalk, with very fine roots, about ten months ago. The roots thickened up. I decided to leave the baby orchid on the plant and wait to see what would happen. Gradually more babies appeared. Isolde continued to throw up flowering shoots. Just as one would expect from an orchid named after a Wagnarian heroine.
About a month ago I found the eldest baby lying beside Isolde, upside down in the toothbrush mug. It had inadvertently been knocked off when Danny opened the bathroom window. When I retrieved the baby, I spotted that it had a flowering stem.
We have an orchid bible languishing somewhere in the cottage. A quick foray upstairs drew a blank on the orchid book front so I took the future of my precious orchid baby into my own hands. I searched for the orchid compost in the garden and found it beside the compost heap.
So I quickly potted it up in a discarded orchid pot (these have clever plastic sills at the bottom to keep the pot above any extraneous water that might be lapping about). The roots were quite short and stubby so it was a tricky manoeuvre. It still is a bit wobbly in its pot but the flowering stem is growing and maturing. I have since ventured onto the Internet and discovered from this site that this floppiness is normal and it should be supported by a stick.
I have also learnt that this 'aerial growth' has a name. Keikei. In our case it is
Keikei 1. I have some more pots and loads of orchid compost so I will be potting up Keikei 2-5 over the next few days.
If you just want to try one orchid ignore the Phalaenopsis and buy a self propogating Dendrobium. Ours lives in the bathroom and clearly loves the steam. Every couple of weeks or so the pot is plunged into a solution of orchid fertiliser and water for a few minutes and carefully drained. It has flowered constantly for years and produced babies with no help from D or me. A bargain orchid and a great investment.
Update: I've just discovered that you can buy tubers to grow orchid outdoors. Thompson and Morgan has a beautiful one – Habenaria radiata (White Egret Orchid). It looks like a flock of little white birds.
Amazon stocks two good orchid fertilisers
.
Leave a reply