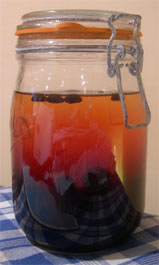 José Antonio ventured onto the site a couple of weeks go. He had been picking sloes in Spain, was planning to make Pacharan and wanted to find the English name of the fruit. Sloes.
Having read our post The Great Sloe Gin Challenge – Three variations of our sloe gin recipe he decided to make sloe gin but he left the recipe for Pacharan in the comments section. This is a drink from Navarra, a northern Spanish province. It's a liqueur that combines sloes and Anisette.
This comment has haunted me:
.My own first "grown up" drink was Pernod. I loved the way the clear liquid became milky when water was added. I've always been crazy about aniseed flavoured drinks. José explained to me that this is not his own recipe but it is the one that he uses. The only aniseed drink that I could find in Tesco yesterday afternoon was Pernod.
As I was writing this post tonight, a new comment was added to the same post from Adrian in Wales who decries Pernod (made from star anise) and suggests Ouzo or Spanish Sweet Anais for this grog. Adrian's recipe also includes a vanilla pod and coffee beans.
José Antonio Garcia's recommended recipe for Pacharan:

Ingredients:
1 litre of Anisette
1/4 Kg of sloes
Some people put some coffee beans and/or cinnamon stick into it.
Method:
Add the sloes to the Anisette and leave to seep for 6 to 8 months.
After eight months remove the sloes as they will spoil the liqueur if left in too long.
I am heading to France for the day in a couple of weeks time and hopefully will find some Sweet Anais or something similar. 250g of sloes are lolling in the freezer until then. Meanwhile, I have used the Pernod and added a few coffee beans to the sloes. It will be interesting to compare the flavours at the end of April 2008.
This date is already circled on our calendar as it seems light years away.
Leave a reply