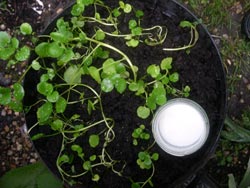 I am working in Saffron Walden at the moment in my friend Anna's new house. It doesn't have a fridge. A pint of milk doesn't last more than a day. Two days ago Anna cleared the kitchen of various dead milk containers and put them on the terrace outside. One container was a transparent plastic cup, half filled with stale milk.
The next day I was having a break in the garden and spotted that a lot of tiny curled things were in the cup. Initially I assumed that her little girls had put a handful of gravel in it. But something rang the Slug Killer alarm bell. I picked it up the cup, swirled and peered. Anna had inadvertently created a slug trap. The cup was full of small snails and slugs. All satisfyingly dead.
That morning I tootled into the green house and found that my 24 tobacco plants that I have nurtured for seven weeks had been chomped. Only the base of the stalks remained. Enraged, I examined my watercress plants.
The pots in the greenhouse were clear. These are waiting to be delivered to friends. My pot stands outside the greenhouse, in the shade in a washing up bowl of water. There were two slugs asleep on the surface of my pot. A lot of the tenderest tips were sheared off and the slugs were dormant beside these tips. They had fallen asleep with food on the table. I tossed the slugs into the chicken run.
Driving down to Essex I pondered the slug question. I am not keen on using slug pellets. I've resentfully tried beer traps (why should slugs be enjoying our great beer?) and daily teach slugs what life as a circus cannon ball would be like. Using a firm swing they sail through the air with ease. This is satisfying but I know that by they time I return home they will have trekked their way back to my seedlings. Anna's Milk Trap was a joyous discovery.
This morning I was on tenterhooks when I arrived at Anna's house. I shot into the garden. The cup was now full of slugs and pretty foul milk. Finally I had found a practical answer to our slug problem. I rushed indoors and announced my discovery. The building team acknowledged my discovery with a brief nod before the ceiling that they were manipulating crashed down with a dusty elongated thud.
Feeling like an undiscovered Einstein I returned home and switched on the laptop to check my findings on the Internet. I discovered that slug haters have already discovered My Discovery.
I found a great site, that deals with every sort of slug killing idea or device.
http://www.cat.org.uk/ihateslugs/bugtheslug.tmpl?startat=31&endat=40&subdir=catpubs&key=TR
A must for anyone who has decided to grow vegetables but has found that they have opened a well reviewed, Michelin starred Slug Restaurant. Now I am going to offer a glass of milk, as an aperitif. A cheap, easy and effective way of distracting slugs from my precious seedlings.
Leave a reply