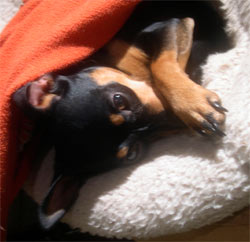 Many years ago, eight years at least, I was walking Dr Quito and his new wife, The Contessa. Suddenly a large dog jumped out from the shadows and sniffed them. He worried them but did not bite.
Dr Q had just recovered from a nasty ˜left for dead episode' on Newmarket Heath. Just the mere sight of a big dog had him shrieking. The Contessa followed suit. So in one movement I swept the Min pins up from the ground and tried to shift the dog away.
The owner just kept his distance and observed.
As his dog leap to the height of my earlobes his owner still did nothing although his eyes were soon the size of organ stops. I finally lost my hair and to my surprise commanded, with a clipped and sonorous bray,
"Kindly control your animal."
Within seconds the snapping jaws were tethered on a taut lead. As one, the Min Pins and I swished out of the park and into Jalopy, a younger polished car at the time.
Ever since then the words"Kindly control your animal", have been a family joke when one or other of us is getting a bit uppity.
It's generally me.
Leave a reply