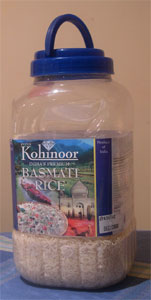 A few weeks ago I was padding around Tesco and decided to look at what was on offer rice wise. We always used to use Tilda. Then, feeling a bit tight, I started buying budget rice. This was fine until I cooked some one evening and it ruined the meal.
I found this 2 kilo plastic jar of rice with a natty handle for carrying the jar from the larder to the stove (it folds flat for storage). The label proudly states that Super Kohinoor is India's premium Basmati rice. It's fantastic. A doddle to make and the lightest fluffiest rice that I have ever tasted. It's also a bit cheaper than Tilda. Incidentally, Tesco sells 10 kilo sacks of Tilda Rice (they are on the bottom shelf and easily missed).
The instructions on the Kohinoor label advises soaking the rice for 30 minutes before cooking. I have never remembered to give myself enough time to do this. I just rinse it for a minute or so and simmer it for 10-11 mins.
We ate it with Delia's Devilled Pork Spare Ribs which are pretty good too. A crisp green salad elbowed its way into the limelight. But the real star was the Kohinoor rice.
The Min Pins enjoyed the pork bones.
Leave a reply