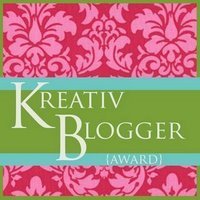 Moonroot has given me the Kreativ Blogger award. She writes a great blog, that always guarantees good and interesting read. Thank you, Moonroot.
The rules are simple. Nominate six blogs that you believe deserve this award and also list six things that you like.
Blogging awards are a good idea.
Writing a blog can be lonely, as I discovered over the past two years or so. Sometimes I find real gems that are unheralded amongst the more established blogs.
So tonight I'd like to share some blogs that I really enjoy but that you might not yet have had the luck to discover.
These six get my enthusiastic nomination for the Kreativ Blogger award they are in no particular order:
Many months ago, Ancel from Pacha Mona visited my blog and since then I have dropped by every now and then to submerge myself in a life on the other side of the Atlantic.
Witty, urbane and well worth a visit, Around Britain with a Paunch is fun and educationalish.
The Sunday Roaster. Good tips and great style.
Sylvie at A pot of a Tea and a Biscuit writes a great foodie site and has just celebrated her blogs first birthday.
Sam over at Glanbrydan's Weblog is full of energy, working whilst setting up another business – selling home cooked food at a farmers market at the weekends.
The Garden Diaries of Amalee Issa is a well established blog written by a fellow Virgo. Superb gardening posts with some great quirky posts about the world beyond Amalee Issa's gardens.
Six things that I like a lot:
Turning off the alarm clock and cuddling the Min Pins and Danny.
Banking large cheques
A day pottering in my garden, whatever the weather
Guzzling my own home cured bacon
Foraging for food
Escaping into a good book
Leave a reply