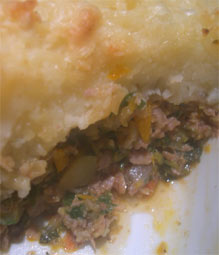 "Do you like carrots in your shepherd's pie?"
"Yes please!" Danny looked suspicious, "What else are you going to add?"
I was planning to cook a traditional British Shepherd's Pie with the leftovers from a shoulder of lamb. He visibly relaxed.
But when I went to the fridge that evening the shelves were bare. For weeks Danny had been stockpiling carrots, buying every bag that he found on the Tesco condemned food counter. At one stage the fridge was bursting with them and I'd considered making carrot whisky (it needs 6 kilos) but pressed for time had just used them with each meal. Somehow we had managed to eat every single one.
So I shifted up a gear and used the other seasonal vegetables that were crying out to be transformed into something delicious. The pie was very good. I stuck to the traditional sort of seasoning for a Shephed's Pie and the combination worked well. Tasty, summery and packed with flavour.
.
Summer Shepherd's Pie recipe
Ingredients:
Pie base:
Half a shoulder of cooked lamb, minced
2 tbsp of olive oil
1 medium onion, chopped
1 chubby clove of garlic, chopped
1 orange pepper, chopped
1 stalk of celery, chopped
1 large tomato, chopped
1 medium courgette, chopped
Good handful of fresh parsley, chopped fine
2 tbsp of mushroom ketchup
0.5 tsp of marmite
2 tsp of flour
200 ml of strong vegetable stock (I used 1 tsp of veg stock powder to 200ml of boiling water)
Salt and pepper to taste
Topping:
450g of potatoes. Peeled and quartered
2 tbsp of milk
1 large knob of butter
Large handful of grated mature cheddar (or goat's cheddar)
Ground white pepper
Method:

Heat the oil in a large sauté pan and add the chopped onion and garlic. Fry very gently until the onion becomes translucent.
Add the pepper, celery. tomato and courgette and stir to coat the vegetables in the olive oil. Sprinkle over the flour and stir well before adding the stock. Simmer until the vegetables are soft yet still have bite.
Meanwhile, simmer the potatoes for the topping. When they are ready mash them or ideally pass them through a potato ricer and add the butter, milk and freshly ground white pepper. Set aside in a warm place. When the vegetables in the saute pan have softened, stir in the minced lamb, parsley and season with salt and pepper to taste. Switch off the power to the ring, pop on a lid and leave for two or three minutes for the minced lamb to heat through.
Put the meat and vegetables in a pie dish and spoon over the mashed potatoes. Roughen the surface with a fork and sprinkle over the grated cheese. Grill for five minutes or so until golden brown.
Leave a reply