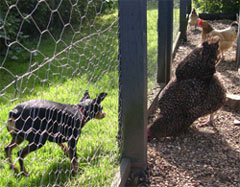 I have been tagged by Compostwoman at The Compostbin to share 6 random things about me.
Tag Rules:
Link to the person who tagged you. Post the rules on the blog. Write six random things about yourself. Tag six people at the end of your post. Let each person know they have been tagged by leaving a comment on their blog. Let the tagger know when your entry is up.
I like being tagged. It resolves the question – what shall I write about tonight? For some bloggers it lifts the veil of mystery. After nearly two years my veil must be in shreds but here goes anyway!
6 random facts about me:
I have small and beautiful feet
My ideal holiday destination is the cottage. I love a week at home.
I only need about six hours sleep a night but savour a stolen morning in bed (breakfast on a tray with the Min Pins and laptop)
The first thing that I think about when I wake up is what we're going to eat for supper – this drives Danny nuts
I dream about living in a tree house, on sunny days
I have a large collection of crystals
I am tagging six great blogs that are all well worth a visit
The Organic Viking
The Domestic Goddess in Training
Leave a reply