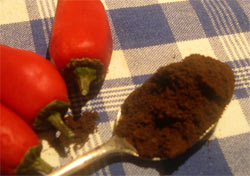 I must admit that if I'd heard the ingredients of Mike's favourite childhood café Saturday morning breakfast, I don't think that I would have tried his spicy Mexican syrup in my first mug of Sunday Saffron Walden coffee. Luckily chill con carne omelette hadn't been mentioned at that point.
Mike has a small chic espresso making machine that makes coffee to kill for. He usually makes an espresso in a mug for me, tops it up with water, sugar and milk. Yesterday he gave me a sideline glance.
"You usually have sugar, don't you? Would you like to try my spicy Mexican syrup instead. It will perk you up. Get everything going."
How could I resist.
He left the mug on the side for me. Black and fragrant. Generally I don't do black coffee but yesterday thought, "Why not give it a go." I took the teeniest sip. It was superb. Not too spicy but rich, interesting . Very different and special.
Mike Murphy's Spicy Mexican Syrup recipe
"All I do is put 2 cups water, 1 cup castor sugar and half cup soft dark brown sugar in a pan, bring to the boil, stirring until sugar has dissolved. Gently simmer until reduced by half. Then add 1 fresh chilli (slit and de-seeded), 2 tbsp coriander seeds, 2 tbsp crushed peppercorns and 1 cinnamon stick. Return to boil and then pour all into a sterilized bottle and store in a dark place for a couple weeks before using."
Editor's note: I would recommend roasting the spices briefly (in a frying pan or under the grilli) to enhance the flavours.
Mike added"I must confess that the only twist I give this recipe is to drink it with the Gypsy Kings blaring in the background wearing nothing but my Mexican Sombrero."
This recipe is from a book called "Cooking with Coffee" by Lucas Rosenblatt, Judith Meyer and Edith Beckmann . Mike writes "I did particulary enjoy the intro which tells the story of coffee. Apparently it all started with a Ethiopian goatherder named Chalid who played a mean flute. :o) one night his goats didn't come home from their day of grazing. He eventually found them all partying around this red-berried bush, coked out of their gords. :o) The world's best selling drug was discovered and the rest is history."
Leave a reply