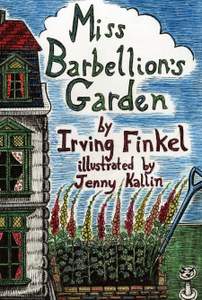 Having read this book I've had to update my fantasy dinner party list to include Miss Nancy Barbellion. In fact she would be welcome at the cottage anytime. Miss Barbellion is a lesson to anyone who equates old age with uselessness. At 71 she is circumspect, punchy and kind.
Miss Barbellion inherits her rambling family home in Bath, England and returns from a lifetime working in distant lands from China to India. She links up with old friends – that she hasn't seen for twenty years.
Despite being an avid letter writer she has still not made the acquaintance of her youngest relation – Mina. A teenage niece who is obsessed with drawing in black pen and ink. I love the fact that the superb, detailed illustrations by Jenny Kallim are all in black pen and ink – except of course the book cover.
Great aunt and niece quickly form a strong relationship. Miss Barbellion rediscovers her huge childhood dolls house and her love for the lead toys that fascinated and absorbed her all those years ago. Mina dives in too – playing with the vintage plastic garden that Miss Barbellion has picked up 'for a song'.
The dolls house and the construction/deconstruction of its garden is the connecting hub for most of the characters in this book. All are beautifully drawn from the rotund sausage loving Cynthia to the ghostly, pragmatic Holly.
This novel could be described as a modern fairy tale or a ghost story. It could be categorised as a cross over book – appealing equally to teenagers and adults. But I found it offered far more than that. When I read the final page I turned it over and started to read it again immediately. This is the first time in my life that I have ever done that. I stayed up all night.
I wanted to try and discover why this book gave me so much pleasure. Why it worked so well. I was intrigued. This book is apparently a simple tale but it is complex, satisfying, surreptitiously witty and intriguing.
It made me laugh out loud when I was least expecting to be tickled.
Collectors of old toys would love this book as it hones in on that particular pleasure.
Anyone who likes an inspiring read would appreciate reading this book too.
Be warned, I thought about this book for weeks after I'd finished it. A truly modern classic. I keep on wondering about what happened next… and the illustrations are superb.
Miss Barbellion's Garden
can be found on Amazon. It is also available from The Book Depository here. The Book People sadly do not stock it.
Leave a reply