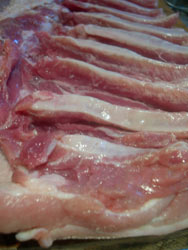 There are many things that send a rippling chill over us all at the moment. But there is one event that devastated us months ago. Back in April, Fred Fitzpatrick sold his butchers shop. Locally, people gossiped and I couldn't bear to tell you that we'd lose this wonderful resource. It's the butcher rather than the four grey walls that makes a shop special.
Deep down inside I suspected that this scenario wouldn't work.
"Well what's this guy actually like?"
Fred was twisting sausages deftly into threes and gave me a cool glance.
"He's not a butcher."
"Is he going to employ a butcher?"
"He's keen to learn butchery skills so I'm staying six months until October,"
Fred Fitzpatrick is generous. He shared his secrets. Taught me most of what I know about meat. He helped me endlessly with my cooking, explaining the different cuts of meat and the ways to cook them. He let me take his unused sausage skins to use for my salami and tasted the first slice of same. He also encouraged me to cure my own bacon and ham. He sampled The Chicken Lady's and my pork pies and added tactful tips until we had got the recipe just right.
Perhaps I should fill you in with the characters that made up the backbone of the shop. Fred was assisted by the debonair and attractive John.
"He actually cooks the meat from scratch and knows what to do with it." Fred told me. "He even watches Master Chef!"
Fred's sister, Linda, confided the same about Fred.
Everyone loved Linda. She worked in Fred's shop. Plump and fresh and calm, she was direct and tactful enough to form great relationships. I looked forward to seeing her every week. Her eyes used to light up when she talked about her grandchildren. She had bought them rabbits. There were tales of woe when the family discovered that they were not two females but a pair with babies on the way.
One day she told me about her dream trip.
"I'd love to cruise to the Antarctic and see the whales."
A few months later she was off to Florida and excited.
"The whales can wait."
She felt unwell when she got to the hotel, laid on the bed and died of a thrombosis. She was just fifty years old. Hundreds attended her funeral. I often think of her.  That was three years ago.
Shortly before Fred sold the business John left England for a new life in Thailand.
Fred had worked at the shop for fifty years. He'd joined as a young lad from school and worked his way up until he owned the business. It was more than a shop. More like a local club. A place where the banter was almost as good as the meat.  Fred is an honest man who ran an old fashioned business.. Situated in a poor area of the town, his business relied on the goodwill of other businesses, pubs and restaurants in the area. He didn't own a computer so internet marketing wasn't an option.
When the new owner took over, it transpired that he wasn't keen to learn butchery skills or develop the business. Perhaps that's why he didn't make the simple local connections. When he cancelled an old lady's regular delivered order as not being cost effective he lost the substantial order from the pub, owned by her nephew. He'd never checked beforehand.
Fred stood at the helm but gradually saw his old business flounder. He was vociferous on my weekly visit as fifty years of effort began to evaporate. Eventually he suggested that another butcher should be employed, and left after a brief handover.
We liked David, the new butcher manager who took over from Fred. Together we started to work on a new approach to our home cured bacon. He hung the pork for slightly longer and left some tiny bones in the bellies. Suddenly we were eating bacon with a teeny bit of soft bone. The bacon of my childhood.
This evening we feasted on the last two Rib Eye steaks in the shop. Tomorrow is their last day of trading and the shelves were almost empty when Danny visited this afternoon. The new owner is selling up without announcing the closure. David is lucky. He found a new job almost immediately.
Thank you Fred and John for all the years of great shopping, good craic and advice.
We are really sad and upset this evening.
Leave a reply