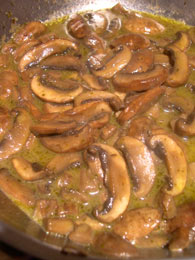 Danny loves mushrooms, particularly Chestnut ones. To make up for supper running really late last night I decided to give him a surprise treat. I warmed some butter, chopped up a pack of chestnut mushrooms and was just about to reach for the garlic when I thought I'd try something new and made the most mushroomy mushrooms that we had ever tasted.
It's hard to believe that the two new ingredients that I chose (was I unhinged when I grabbed them from the fridge?) could transform five day old mushrooms into delicious, deep mellow flavoured mouthfuls. We could not specifically taste the new ingredients, they just blended quietly with the mushrooms and truly enhanced the mushroom flavour.
Supper was finally scoffed at 10.30pm. Danny was all smiles.
Mushroomy Chestnut mushrooms recipe
Ingredients:
1 standard pack of chestnut mushrooms
50g of butter
1 tsp of olive oil
1 level tsp of finely chopped preserved lemons
1 level tsp of traditional pesto
1 tbsp of dry white wine (optional) you could use vegetable or chicken stock
Salt and pepper to taste
Method:
Heat the butter and the olive oil gently in a frying pan (the olive oil will stop the butter from burning).
Wash and slice the mushrooms, including stalks.
Toss them in the pan and turn them gently to cover with the butter. Add the pesto and the chopped preserved lemons. Cook over a very gentle heat for about 20 minutes stirring occasionally.
Add the wine after ten minutes and a little more if they begin to get dry. The secret is to cook this dish very slowly to give the flavours time to develop. When the mushrooms are soft, season to taste and put in a warm place until you are ready to eat (mushrooms keep warm well).
Leave a reply