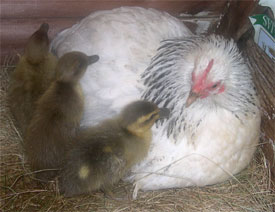 Hatching has stretched over three days now. Freddie (hatched Tuesday) and Tipex (hatched Wednesday) with an ultra white tip to his bill. This morning we opened the side of the castle and discovered Eric standing a bit wobbly on dark black legs with matching feet and bill.
Mrs Boss is still sitting so there still might be more ducklings. This evening she had that glinty look again. Perhaps she was protecting another hatchling.
Having spent a day alone with Mrs Boss, Freddie seems much closer to his surrogate mum than the others. There is a definite bond. He appears to enjoy loads of communication and preferential treatment. He clearly has been detailed to teach the other ducklings to eat and drink as they watch his every move. But Freddie can't give them the warmth and affection that they crave.
When Mrs Boss hopped off the nest this morning and started moving the scraps of eggshell from the nest into the castle grounds, we had a few moments to examine the three remaining eggs. One was piped. By tomorrow we should know the final size of Mrs Boss's new family. At the moment she is torn between looking after her new brood and hatching out the rest of the eggs.
Meanwhile the ducklings are developing fast.
"You can almost see them grow." S told us last week. "They develop much more quickly than chickens. That's why it's unwise to mix duck eggs and hen eggs in the same nest. The ducklings would just take over. It's a question of size."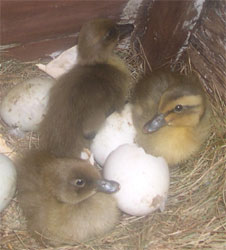 Left to right Tipex, Eric and Freddie..
If you have ducklings, chicks or keets it's important to check that all is well a few times a day even if the have an attentive mum like Mrs Boss. The water fountain will be fouled by immature birds and the water needs to be changed every few hours. If you do not have a miniature water fountain, a saucer with a large stone in the middle is a good alternative, or put pebbles in the base of a normal sized drinker to prevent the young birds from drowning. Ducklings, chicks and keets drink a lot. Make sure that they always have plenty of fresh water available.
Hatchlings eat chick crumbs (these should be available from your pet shop or grain supplier). These contain a good balance of vitamins and the vital ingredient to combat coccidiosis to which young chicks are particularly susceptible. A clean, damp cloth is handy for wiping the feeder. Remove any fouled feed and replace with fresh.
Make sure that your hatchlings are protected at all times from cats, dogs and even the rest of the flock. Ours will stay in The Emerald Castle and grounds until they are old enough to hold their own and join the mature hens and guineas in the big run.
Leave a reply