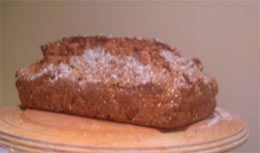 Every time Danny goes away on business I make bread.
I suppose it's because I have more time on my hands and there's not the rush to rustle up supper the instant that I get in from work. I prefer to eat much later than my paramour and tonight it's the cottage pie that I made on Saturday. As my fingers fly across the keyboard a baby pie is heating through in the oven along with my first attempt at no knead spelt bread. It's snug in the kitchen, a warm haven away from the chill of the rest of the cottage. The dogs loll beside the wood burning stove in their baskets. Later we'll creep under two duvets and warm our toes on a hottie.
My internet pal Pamela sent me a link to a no knead quick spelt bread recipe that she had discovered on the True Food Co- op forum. I tracked down the original article and discovered that that The Daily Telegraph site has quite a few recipes using spelt flour and this article is packed with facts about the grain and several tempting recipes including a spelt soda bread, made with milk and lemon juice rather than buttermilk.
So this evening I pointed Jalopy towards Waitrose (who stock two brands of spelt flour). The cheaper brand was still quite expensive  – £3.95 for Bacheldre stoneground (1.5kg). But compared to a loaf tossed into a trolley from the designer bread shelves in the same store it was almost a steal! I reckon that it works out at about 130p for a loaf including the fuel, quick yeast and seeds. Pamela mixed her flour 50/50 with white plain flour which would bring down the cost significantly.
The flour looked wholesome enough to satisfy the pickiest health nut. The final mixture seemed very gluey and I was tempted to add a bit more flour but decided to see how it baked before I started tweaking the recipe. I didn't have any sunflower seeds so just added more sesame seeds and linseeds.
The baked loaf resembled the sort of hefty rustic brick that would create great excitement if unearthed on a dull Archaeological dig. It had risen by 50% but still felt weighty enough to smash a window. Although the crust was a bit of a challenge for the bread knife it was satisfyingly crunchy in the mouth. 
This bread is delicious and well worth making. Fairly moist when eaten straight from the oven the bread dried out well as it cooled. The linseeds added extra texture and flavour. Next time I'm going to up the salt and flour. I can't wait to try the soda bread version but I will go for a 50/50 mix with plain white flour as we do with our brown soda bread.
Tomorrow the loaf will be savoured as goat's cheddar and spring onion sandwiches for lunch. Having been toasted for breakfast, of course.
Leave a reply