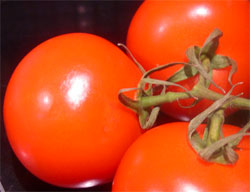 One hot summer's day I was working at my friend Carol's house. She had invited some old friends for tea and spent an hour making a plate of exquisite sandwiches for them. There were all my old favourites; egg mayonnaise, ham, cucumber and one I had never sampled before (Danny says that this is unbelievable but it's true).
"These are tomato sandwiches," Carol smiled, pushing the plate towards me. "Would you like to try one?"
I was a bit dubious but I didn't like to refuse. She watched me carefully and I sampled one, expecting to taste thin, pinkish nothingness.
The tomato flavour exploded in my mouth, fresh, tangy and instantly addictive. It was one of the best sandwiches that I have ever tasted.
"They sound so dull but they are amazing," my response was hopeful. Perhaps I'd be offered another.
"Yes," Carol nodded with a knowing smile. "They are the best."
She pushed the plate towards me and I accepted one more. When her back was turned I snitched one and then had to retire to my car as I didn't have the self control to stay in the room and not scoff the lot. After a while, I watched her friend's car glide up the drive with an overwhelming agonised envy.
I now make these sandwiches to eat as an afternoon snack on a long day away from home. They need to mature and are at their best an hour or so after you have made them, when the tomato juices have started to soak into the bread. They work much better with white bread than brown. I've tried them with French bread and the standard English loaf. Both are good but the trick is to cut the bread no more than half a centimetre thick and slice the tomatoes very fine. Children love them. And they are perfect for picnics and packed lunches.
Ingredients (for 4 rounds – 16 dainty sandwiches):
Small fresh, white loaf of bread
4 organic tomatoes
Butter
Salt
Method:
Cut eight thin slices of white bread and remove the crusts (the latter is important)
Butter the bread thinly
Slice the tomatoes very thinly and cover four slices of the bread with them
Sprinkle with salt and a dash of ground black pepper
Make up the sandwiches and cut each round into four (somehow the tiny size makes them more exquisite). Cover and leave for at least an hour in a cool place before sampling.
Leave a reply