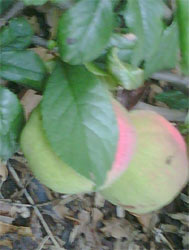 Every one loves the look of a quince from a tree. The large size, the slight fuzziness on the skin. The smell of a bowl of quinces can scent a room if they are allowed to ripen. A quince plucked from a tree can keep for months properly stored but windfalls need to be used pretty quickly.
We were given a quince tree a few years ago. This summer it hasn't been happy – losing a lot of leaves during July and generally looking peaky. I gave it lots of extra water and it rallied a bit but the quinces are scant and undersized. So the prospect of preserves was suddenly doll sized.
Last week I was restoring some garden furniture for a charming lady and a very gentle Dalmatian dog who live in a swish new block of flats at the bottom of Newmarket Heath. I enjoyed a day or so outside in the September sun. I was also hugely entertained by a tame squirrel that feasted on her bird table along with a robin and a crow. This motley crew distracted me as they politely took turns to feed.  It was only on the last day that I spotted the bird feeders stood in a border filled with small japonica bushes. On closer examination, the branches of these bushes were laden with plump fruit.
I scuttled indoors to announce the discovery of rich bounty.
"Ah, yes. They rotted on the ground last year. The entire crop. I used to make a wonderful quince marmalade when I was on the farm."
"Is that the one that you mix with Seville oranges?"
"Yes, I can give you the recipe."
A large drawer rolled open and she searched in vain for the book. Eventually she passed me a capacious bag.
"Take all the fruit, no one is interested in preserving these days."
"Have you ever tried Membrillo?"
She shook her head.
So we struck a deal. I'd harvest the fruit and return with jelly and Membrillo. You can't beat really fresh quince jelly melting on a wedge of pork or lamb.
I will be turning the fruit of the Ornamental quince into jelly, Membrillo  and marmalade. They taste the just the same as the fruit from a quince tree, they are just a different variety. Smaller and green with a reddish blush. Quinces are also divine baked slowly in low oven and added to stewed apples for that extra zing.
Leave a reply