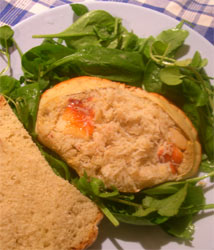 Every other week I shop with my mum. We enjoy a good lunch chez maman and then glide in the comfort of Danny's car to her favourite stamping ground – Waitrose.
With our save money in 2008 challenge this isn't the top of my supermarket list for bargain store visits but over the months I've noticed some good, substantial offers behind the deluxe portals. As the credit crunch starts to bite with a painful rather than a playful nip, their in store offers have increased. Last weekend I shopped there for well under fifty percent of the 2007 weekly spend and there were real treats in my basket. If you shop smart it's worth considering the deluxe stores every now and then. Incudentally we had visited the W shop the day befre to buy offer beef mince for our cottage pies.
We do take our time in the store, swapping tips and peering at the cost per 100g – this is a real key for saving money. And we have far more fun than the lonely weekends when I shop at Tesco.
Tesco does have its plus points too:
a bigger range of products
all the soon to be out of date food in one spot
I can visit wearing my decorating clothes and not startle the other shoppers
But if you look at the cashiers in each store and the way that they interact with their managers, Waitrose is the supermarket that wins the gold medal for the happiest staff. Over and over again. So every other week it's good to bask in the bonhomie.
Waitrose at three thirty on a Sunday afternoon often has great offers in the fish department. This dressed Cromer Crab as nearly half price, with a large garnish of baby salad leaves and some of our freshly made white soda bread with oatmeal, it was the perfect treat supper.
Cromer crab is amongst the tastiest British crab available. There are loads of recipes around for Cromer Crab but I like it best in just dressed in its shell. Danny had left for a working week in Wales so as I ate this supreme treat I looked for information on Cromer Crab and the best was from the well researched and beautifully written site, The Tracing Paper. An excellent U.K. food blog that's always well worth visiting.
Leave a reply