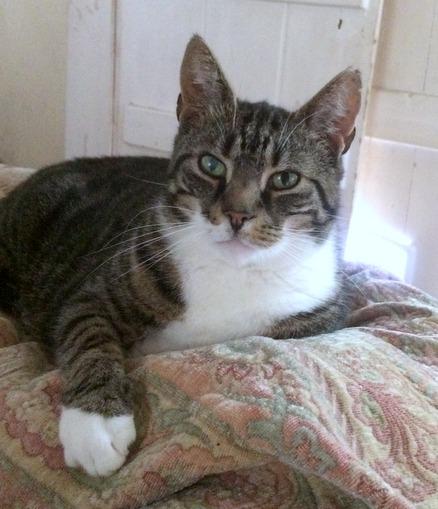 "We just haven't been able to place him. He doesn't settle. And then we thought of you. The only person we know that is laid back enough to deal with him?"
It was the lady from the cat rescue centre.
I was rather flattered. Had never thought of myself as laid back. So I said OK.
I did want a cat. The mouse war in the cottage was never ending. I hated killing them and think that the humane traps are cruel.
The large and rather beautiful tabby cat arrived with an amount of luggage that would suit a spoilt Saudi prince. A massive cat gym, traveling basket large enough to house a small hippo, a cat tray with its own roof, superior cat litter, gourmet food, bowls and a range of expensive cat toys.
He was settled in the spare bedroom, with a fence across the door to deter prying min pins.
There he stayed for months. Spitting from under the bed when I went in to feed him and clear his cat tray. Growling when I peered under the bed. I sat in the room for hours as he yowled from beneath the bed. He hated me and I loathed him.
Somehow it was never convenient to return him to the cat home. I didn't dare pick him up. They would have to come and collect him. Then he went missing and I was secretly delighted.
After a month he poked his head through the cat flap and eased himself into the kitchen. This became his kingdom. The growls, spitting and lashing out with needlelike claws continued but soon the mice had left home! He was clearly good at his job.
Everything changed when the Min Pins died and were replaced with new dogs. Suddenly Pushkin was weaving around my legs. Purring and doing normal cat like things. He was clearly jealous of the dogs.
I had been drying his back when he came in wet for months – he liked this and would stand beside the place that I kept his towel until I reached for it and gave him a gentle rub. Rather nervously I started to cuddle him as he ate. Gradually with a combination of lashing out and deep purring he indicated where and when he liked to be touched and stroked.
"He likes you," my sister said. "He always perks up when you come in."
I wasn't so sure but I was getting fond of my shy grumpy cat who always disappeared when strangers trudged up the drive.
Now he transferred his hatred to the dogs. They were not keen on him – he whacked them with claws that I suspect he sharpened daily. The dogs were frightened of going in the garden – the cat ran away when they barked but rapidly returned to torment them. There were several visits to the vet to tend war wounds and frayed nerves.
Last year everything changed.
I had major building works carried out in the cottage and returned home without the dogs to complete the rest of the renovations myself.
After a month alone Pushkin gave me a warm welcome. He slept on my bed, goggling when I first stripped off for bed. Lived in the kitchen with me, kept me company when I bathed and gradually taught me his language. We were living on a building site but the kitchen was warm and we had an all night electric blanket on the bed.
After a few months the dogs had to return home. What would happen to Pushkin? We had become like an old married couple. One of the dogs refused to stay in a room with Pushkin, if she got stressed she would tremble all over and pee in the house.
I had to change the old cat/dog status quo.
So I fitted a second cat flap to the sitting room outside door. He loved it.
When the dogs returned home the kitchen became their new kingdom and Puskin had sole access to the rest of the house.
I now no longer work in The Rat Room upstairs and have transferred my laptop to the kitchen to be with the dogs in the day.
Pushkin still hides in the bushes beside the back and front door and spits at the dogs as they pass but he allows them run or sit in the garden without attacking them.
Finally all the animals seem happy. For now.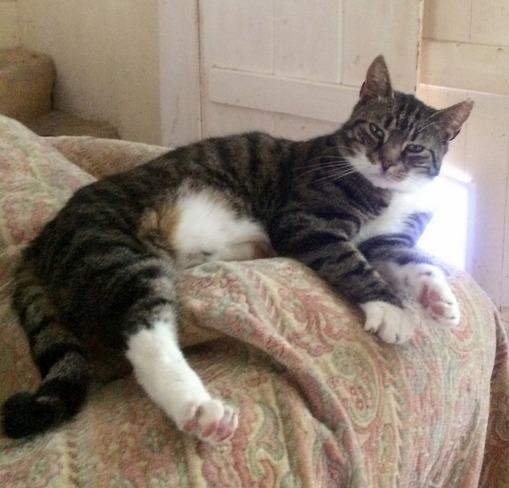 Leave a reply