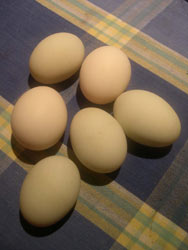 The Chicken Lady dropped by on Sunday with a present of six eggs laid by her Indian Running ducks. Wonderful rounded eggs. Two creamy whitish ones and the others with a gentle bluish, greenish tinge. When I opened the lid of the box they looked almost translucent. Magical.
Duck eggs are the perfect present. Softer shaped than the average chicken's egg, they have a bigger yolk to white ratio and taste far richer.
We've only ever eaten them once before – a memorable brunch at Alison and Richard's house in Norwich. He produced them with a flourish. I was a bit edgy about them, remembering my mother's golden rule.
"Always make sure that they are properly cooked or you may get…"
I can never remember what lurgy might be contained in the eggs. In Norwich I ate my breakfast like a lamb and didn't mention the quandary to Danny. We survived.
Of course we did. I discovered on the internet last night that the occurrence of Salmonella in duck eggs is lower then in chicken eggs. I also found out that duck eggs are higher in protein than chicken eggs. As they contain less water, they can become rubbery if you overcook them.
And this was after we had eaten our delicious golden duck egg frittata.
It was the second frittata that I have ever made and the third that I've enjoyed. I've been a fan of the souflette for years and have eaten gruesome cold rubber omelettes in Spain, tucked into my lunch box and grimly chomped. When Anna invited me to lunch and mentioned that she always used 9 eggs in her frittata I was intrigued. Would this feed 9 people? Would it be edible?
I saw her peeling and slicing some potatoes and my heart sank. Even though she is a great cook I expected rubbery potato omelette and woolfed down the corn chip appetiser.
Anna's frittata was superb. I just had to make one for Danny. The Mediterranean answer to egg and chips. I made a pretty good one, off the cuff (too late to ring Anna) with feta cheese and potato. Cooking it slowly on the stove top and finishing it under the grill.
Last night I did a bit of recipe research. Prue Leith detailed a complex manoeuvre for turning over the frittata involving a sauté pan, a large plate and a lot of nerve. I took the soft option and plumped for Delia's method, 15 minutes on the stove top (lowest setting) and 30 seconds under a high grill. No nifty summersault. I also nicked her idea of putting cubed cheese into the beaten eggs. Wonderful as these burst when cut or munched. Delia suggested mushrooms and a melty Swiss cheese. As I didn't have these to hand I chopped a mixture of cheddar with a little stilton and with an Alpha Carnivore Irishman waiting in the wings, I couldn't jettison the potato and survive the meal.
Easy, delicious, quick and substantial. A perfect dish. And there was even a doll's sized slice to take down to Mike in Saffron Walden this morning.
Quick, tasty and easy cheese and potato frittata recipe ( for 3. Use 8 -9 eggs for 4 people)
Ingredients:
6 large eggs
2 medium potatoes
100g of cheddar cheese cut into 1 cm chunks
20g of Stilton or any blue cheese cut into 1 cm chunks
15g of grated cheddar (topping)
Half a tsp of good mixed dried herbs or a tblsp of fresh ones (a good mix of herbs such as thyme, oregano. marjoram, parsley and chives. Don't include rosemary unless it's just a sliver as it will overpower the other herbs).
1-2 tblsp of virgin olive oil.
Qurter tsp of sweet smoked paprika to serve
Method:
Peel and cook the potatoes. Meanwhile prepare the other ingredients. Chop your cheese, whisk the 6 eggs with a fork and chop your herbs.
When the potatoes are ready, slice them into 0.5cm chunky slice and set them aside.
Heat the olive oil gently in a large sauté pan. When the oil is hot add the chopped cheese and herbs to the beaten eggs and pour into the sauté pan. Immediately turn the heat down to the lowest setting and distribute the potato slices over the top, sprinkle the grated cheddar and leave for 15 minutes. Do nothing. Set the timer for 12 minutes!
When the timer goes off set your grill to the highest setting so that it will be sizzling when you transfer the frittata from stove top. Finish under the high grill for 30 -60 seconds.
Serve immediately with a crisp green salad. And some good table wine.
Leave a reply