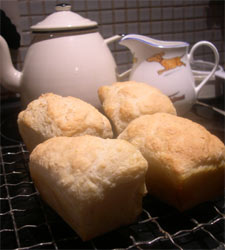 Gradually Danny and I are eating more whole grain bread. It does taste good, is better fuel and doesn't have one dashing to the car to search for a forgotten bar of chocolate mid morning. But sometimes there's nothing like a crusty white loaf for breakfast.
We woke to an empty bread bin this morning.  I had a longing for fresh white rolls. Small warm puffs of happiness lavished with butter.
So I decided to try and make some. With two hours to spare before work, I probably just had enough time to make some no knead bread dough and let it rise once before baking. No knocking it back and letting it rise again. Frontier bread making with no time to nip to the corner shop if everything went wrong.
I bought these dinky doll sized bread tins a few months ago from TKMaxx. Despite the budget cut backs I just had to buy them. They languished in the cupboard for ages until I discovered that they are perfect for making the Italian tomato tartines with a great balance of crust to soft tomatoey centre. I tried the recipe using a normal sized bread tin and it just wasn't the same at all.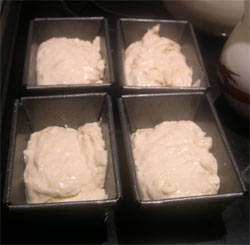 This morning I decided to expand their horizons and introduce them to bread rolls. I halved the ingredients in the no knead recipe , substituted plain white flour for the spelt flour and within an hour was lifting four miniature loaves out of the warm oven.
I used dried fast yeast (the sort that is used in bread making machines), made up the mixture and divided it between the four bread tins.  They were left to rise in a warm place for 30 minutes and then baked for half an hour.
The texture was a cross between a white crusty loaf and a crumpet. Delicious with melted butter and a large mug of sweet tea. Crumpets – I love these! They must be my next port of call on the experimental breakfast journey.
Leave a reply