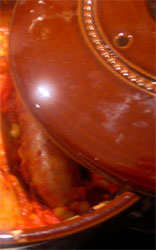 This is my version of our friend Bunty's delicious sausage and bean casserole. It's delicious and really quick to prepare. She bought a large casserole of this to a party and I spotted someone guzzling it straight from the pot when it was cold.
This is a great supper party dish as it keeps warm for ages and just looks after itself.
Quick sausage and bean casserole recipe (for 2-3)
Pre heat the oven to 210c (190c fan)
Ingredients:
450g of plump sausages
400g tin of chopped tomatoes
400 tin of borlotti beans
400g tin of flagelot beans
4 sweet piquante ˜Peppadew' peppers (these come in a jar and give the dish a bit of subtle heat and spiciness)
1 teaspoon of mixed herbs
Olive oil
Method:
Lightly brown the sausages in a frying pan with a little olive oil
Meanwhile rinse the beans and add them to a casserole dish.
Stir in the tomatoes, the ˜Peppadew' peppers (chopped roughly) and the herbs.
Put the sausages into the mixture and bake open in the centre of the oven for 30 mins.
We ate this with runner beans and crusty bread. Side salads also work well.
Leave a reply