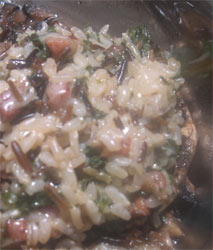 If we holiday abroad it's generally in Italy. We love the country, the people, the fashion, and the food.
Four years ago Danny gave me a week in Rome for my birthday. The perfect present. We arrived, changed into fresh clothes and immediately headed out to find a restaurant. In that magical way of happy holidays we drifted into a side street and found a wonderful restaurant, nestled behind some large ferns.
Danny had taught himself the basic structure of the language as he commuted from Exeter to the cottage. Abba Gold was tossed aside and replaced with language CDs. He also attended Italian classes at Exeter University. So he was able to chat with the restaurant owner when he bobbed out to welcome us. We were immediately ushered in to examine the table of hors d'oeuvres. They looked and tasted stunning.
Until then the thought of stuffed vegetables had me frothing at the mouth in horror. These were beautiful and delicious. The stuff of good dreams that leaves one feeling hungry at dawn.
I've been thumbing through The Silver Spoon
. The Italian bestselling cookbook that is now is enjoying a new life as my closest companion, rather than a step in the larder.
I'd bought large open mushrooms (Portobello) at the weekend and as I grazed the mushroom recipe pages I took a little suggestion from one, a hint from another and the method from a third. There are thirteen recipes that give mushrooms a leading role in this book. Perfect if you are focusing on fungi.
There are loads of other sections in The Silver Spoon
where individual vegetables take a starring role. Tomatoes have seventeen epic recipes devoted to them. I'm already longing for a glut.
There is something about the apparent simplicity of this book that gets my imagination into fifth gear within seconds.
The cooking method that I chose is a real money saving one. Rather than fire up the oven to cook these dainties they are simmered in an enclosed sauté pan/casserole dish on the hob. I considered using wine in the sauté pan but decided to use the creamy rice water to generate the heat to cook the mushrooms (TSS was using much smaller mushrooms than my hefty cartwheels so dodn't suggest any liquid in the pan). As I could only fit in four mushrooms, I chopped the remaining one and added it to the rice juices in the pan. When the mushrooms were cooked we discovered that the chopped mushroom and rice water had combined to make an excellent mushroomy sauce – the perfect foil for the intense flavours of the stuffed mushrooms. Low fat and superb.
We have now finally cracked curing a great streaky bacon. We can make half a belly of pork into a one and a half kilo home cured and smoked bacon slab for just under £5. We are able to cut a chunky slice to make our own lardons. Full of flavour and surprisingly little fat. Eat your heart out, Tesco.
These stuffed mushrooms do not have quite the look and élan of the Roman ones but they were seriously good. And unbelievably quick and easy meal to make These are a main course dish, filling comfort food with loads of texture and just a smidgen of meat. Delicious.
Portobello mushrooms with deluxe rice, bacon and spinach stuffing recipe
Ingredients:
250g of large Portobello mushrooms (reserve one mushroom to chop and add to the rice water in the final stage of cooking). 1
00g of streaky bacon lardons.
A large fat clove of garlic, squashed and chopped.
Splosh of olive oil.
Tea cup of brown rice (we used long grain brown with 20% wild rice from the food cooperative – it was perfect).
Good stock (we used an intense lamb stock that had been bubbling in the slow cooker all day).
2 tablespoons of fresh chopped parsley and marjoram.
2 tablespoons of fresh cooked, chopped spinach.
2-3 tablespoons of finely grated parmesan.
Salt and ground black pepper to taste.
4 tablespoons of the rice water (reserved from cooking the rice)
Method:
Rinse and cook the rice in a good stock (cubes would do at a pinch).
Meanwhile chop your lardons and fry gently until crisp (we added a splosh of olive oil as the lardons were very lean).
Add the chopped mushroom stalks and the garlic. Soften.
When the rice is cooked, drain and reserve the rice water.
Stir in the spinach, lardon and mushroom mixture, herbs and one tblsp of the finely grated parmesan. Season with salt and pepper to taste.
Put 4 tblsps of the rice water into the sauté pan, arrange the mushrooms in the pan and spoon the filling into each one. Sprinkle each mushroom with the remaining parmesan cheese. Add the chopped mushroom to the rice water and bring to simmering point. Cover and leave for 20-25 minutes until the stuffed mushrooms are soft.
Serve on warm plates with a crisp green salad on the side.
Leave a reply