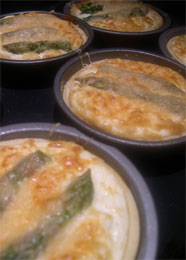 Although we are in the middle of the asparagus season it wasn't until last week that I found English asparagus on sale locally. I bought a couple of bunches, put them in a large jug of cold water and forgot about them.
I spotted them a few evenings later, looking less than their best so I snapped off the tops and made these savoury tarts. Perhaps it was desperation to get the best possible return on the small harvest that made things move up a gear in the cottage smallholder kitchen. Or possibly the fact that Danny had left a tempting tub of ricotta and a large firm unwaxed lemon in the fridge. There is no need to pre bake the pastry cases before you add the filling.
Simple, delicate and chic – I wolfed one immediately and haven't missed a day without an asparagus tart fix since then.
Great served on a bed of fresh rocket with a drizzle of really good olive oil.
Asparagus and ricotta tarts sprinkled with lemon zest and parmesan recipe (6 individual tarts)
Ingredients:
Asparagus tips (about twelve)
250g tub of ricotta
2 large eggs
60 g of finely grated parmesan
225g of short crust pastry (I made mine in the Magimix using Anne Mary's recipe)
Zest of a large unwaxed lemon (this will seem like a lot)
Pinch of salt and lashings of ground white pepper.
.
Method:
Roll out the pastry and cut to fit the individual tins. My cutter is slightly too small so produces small saucer shaped tarts. Put the tins in the fridge to chill for ten minutes.
Meanwhile toss the asparagus tips into boiling water and simmer for 4 minutes or until just cooked. Plunge asparagus into cold water.
Beat the eggs and stir into the ricotta cheese. Add a pinch of salt and at least half a tsp of ground white pepper.
Cut off the tips of the asparagus and slice the remaining stems.
Arrange the stems in the pie tins and spoon over the ricotta and egg mixture. Arrange the asparagus tips on the top of each tart. Divide the lemon zest and scatter over the tarts. Sprinkle the finely grated Parmesan cheese over the tarts and arrange the tins on a baking try.
Bake for 15 minutes in a preheated oven 200c (fan 180c) for 15 minutes. Turn the tray and bake for a further 10-15 minutes until glden brown. Allow to stand in the tins for five minutes before turning out onto a cooling tray.
Leave a reply