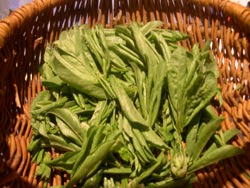 My great grandparents took their chances in the California gold rush. It didn't work out and they saw their four children die of scarlet fever.
They returned to England and had four more children. Three girls and a boy. Those four children would have been extra special.
Boys were best in those days as they carried on the family name. My Great Uncle Frank was the one and only boy. He contracted consumption (tuberculosis). His mother was told that he wouldn't live beyond 21. She didn't tell him. At twenty and 10 months he announced that he wanted to travel to South Africa.
She had to join him. The voyage would surely send him back in a coffin. He didn't die and lived well into his eighties, which was lucky for me. He came to stay when I was 17. He was 80.
Great Uncle Frank was born in the 1890's. Consumption meant that he lived most of his life in Switzerland. His first and second toes were the same length as his big toe. If he had been healthy he could have been a great ballet dancer. He never danced but he always shimmied to the dinner table
He talked at length about the tips of broad bean plants in spring. In England, broad beans are usually planted in February. The tips of the plants attract blackfly and are plucked at this time of year to stop the invasion. In his youth, these tips had been served as a delicacy in France.
The tips of our broad bean plants have been infested with backfly in previous years. We planted this season's broad bean seeds back in November to help avoid blackfly and fungal diseases such as brown spot. Our plants are doing welll so I plucked the tips tonight.
46 feet of broad beans gave us a large handful. Minimal yet delicious. If a broad bean consorted with a spinach leaf, this would be their baby. Beany, spinachy and totally delicious. Wash and simmer for 2-3 mintes witout adding any more water.
If black fly haven't invaded, why not try some?
Leave a reply