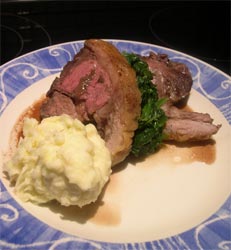 Fred's racks of lamb are always chubby, tender and a real treat. Yesterday I drove back from Essex to find Danny creating a new sauce for a chunky rack. We like to make our sauces in the same pan as the roasting meat. If we get the ingredients right it's a lazy way to make a sauce and sometimes the sauce also tenderises the meat.
This sauce has soul. It was a treat at the end of a long day. Combined with spinach and creamed potatoes (champ) it was superb. If you prefer a thick sauce, a little corn flour or potato flour could be added while the meat is resting.
Every now and then we buy a 6-bone rack from Fred. We divide it in half, eat one half and freeze the other. The flavour of a small rack of lamb is so much better than lamb chops and it's much easier to cook.
Easy rack of lamb baked in a sweet savoury sauce recipe (for 2)
Ingredients:
Half rack of lamb (chubby chops 3-4/400 g)
6 tablespoons of dry white wine
2 tablespoons of balsamic vinegar
2 teaspoons of Sloe and Bramley Jelly' (you could use a red currant jelly and a splosh of sloe gin. Or just red currant jelly but you won't get the depth of flavour that the sloe gives)
4 rosemary leaves (just the leaf, not a sprig)
A gentle shake of garlic granules. Don't be sniffy about these. They are really useful, if you are pressed for time. They are also an essence so you don't need much. It is defnitely worth playing with garlic granules.
Method:
Preheat your oven to 180c (160c fan)
Combine the wine, balsamic and jelly in the base of a small (pie) dish.
Place one leaf of rosemary and a light shake of garlic granules between each cutlet.
Put in your rack in the dish sitting upright (bones down, fat up) and bake for 30 mins uncovered. Allow 30 minutes for pink. Add five minutes for if you like them medium rare and another five or ten minutes if you want them well done. You can plunge in a knife and separate the cutlets to check, if you want. They won't mind being bunged back into the oven if they need a little more time.
They are also good with loads of watercress and mini roast potatoes. Mini roasts can be cooked at 180c (160c fan) for forty minutes so you need to start them before the rack. But they can go in at the same time if you rest your meat for 20 minutes.
Leave a reply