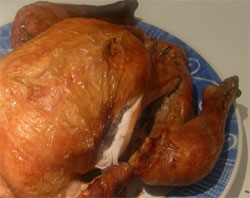 My friend Emma gave me this special roast chicken recipe. Everyone loves it, including her young children and it's quick and easy to prepare. The chicken sits in the stock as it roasts so it is succulent and full of flavour. The garlic sauce is delicious and doesn't blow your head off. If you are looking for an easy way to cook pheasant this recipe works very well with game.
Ingredients:
1 chicken (approx 1.5 kilos)
1 head of garlic
300-600 ml of hot chicken stock (depending on the size of your casserole. There needs to be enough to cover half the bird)
Splosh of white wine (optional)
3 sprigs of thyme
1 unwaxed lemon/apple/onion to stuff the cavity
6 rashers of streaky bacon
Ground black pepper
Method:
Set the oven to 210c (190c fan-assisted)
Put the lemon in the cavity of the chicken and place the chicken in a small casserole dish.
Break up the head of garlic into cloves and scatter them around the bird (do not peel these).
Tuck the sprigs of thyme around the bird.
Arrange the streaky rashers over the breast of the bird.
Pour on the hot stock and the wine. Season with ground black pepper.
Put a piece of foil under the lid of the casserole to insure a tight fit. An place the casserole in the centre of your preheated oven.Cook the chicken covered for an hour.
Remove the chicken temporarily from the oven, put the bacon and put it on a small baking dish to crisp at the bottom of the oven. Return the chicken to the oven for another 30 minutes (lid off to brown). Top up the juices with more hot stock if necessary.
When the chicken is cooked, remove it to a warm place. Don't forget to take the bacon out of the oven at this point. Cover the chicken with foil and some towels to relax whilst you prepare the garlic sauce and cook your vegetables.
Remove the garlic with a slotted spoon. Squeeze out the garlic from the skins (discard skins) and using a hand blender whiz the garlic into the rest of the juices. Pour into a warm jug to serve with the chicken.
Leave a reply