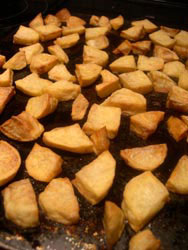 I was introduced to the Penultimate Paramour's elderly parents thirteen years ago on a classic "come down for the weekend" invitation. They were charming and we offered to cook supper. They had bought a chicken so roasting was the easy option.
We grinned. Roast chicken is easy. We could shine.
Looking back now, I appreciate that going to the pub before we started cooking the bird was a bad idea. Half an hour into the cooking process we realised that we had forgotten the roast potatoes.
"They are essential." The PP was tight lipped.
My mind whirled. His parents could possibly be my new In-Laws.
"Why don't we try cutting the potatoes into small chunks? They might work. Let's call them mini roasts. Hopefully we'll be eating some sort of crispy potatoes."
They worked brilliantly and I've cooked them ever since. They are a hybrid. A cross between roast potatoes and chips. This evening we cooked my Gypsy style pot roast pheasant dish and they were a perfect accompaniment. Far better than game chips.
And the great discovery is that they don't need a hot oven to crisp. We roasted these alongside our slow cooked pheasant. They baked at 160 (140 fan, gas mark 3) for an hour and then crisped for more colour at 180 (160 fan, gas mark 4) for 10 mins. Very crunchy all over with soft, linger over centres. Delicious.
Mini roast potatoes. A slow cook, low temperature recipe for crispy roast potatoes
Ingredients:
1 kilo of potatoes. Washed, peeled and quartered lengthways. Chop these qaurtered lengths into 1.5 cm widths. You will end up with a pile of chunky slices.
3 tablespoons of olive oil
Method:
Put three tablespoons of olive oil into a deep bowl.
Toss the prepared potatoes into the bowel in smallish batches. Make sure that they are coated all over in olive oil.
Arrange them on a baking tray, not touching. Bake for an hour at 160 (140 fan, gas mark 3) and then if they look pale turn up the heat and bake for 10 mins at 180 (160 fan, gas mark 4) whilst you cook your other vegetables. Don't be tempted to try and turn them. They don't need this and you might break the surface and spoil them.
Leave a reply