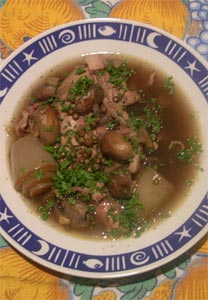 This is the first time that The Cottage Smallholder has participated in a blog event. 'Waiter There's Something In My…' is hosted across three great sites. The first theme is stews. *See the bottom of this post for the link to the details.
Tasty pheasant dishes needn't be rich to be good. This stew is packed with flavour and is good to eat at this stage in the season when you might be beginning to suffer from a surfeit of rich game dishes. We call this condition Pheasantitis.
The only remedy is to freeze the birds for later in the year or cook them in a totally different way. I felt a twinge of Pheasantitis this week and we treated it with this dish. We had a lot of fun developing this recipe which is our own.
It might seem a bit of a palaver but baking shallots/onions (rather than just tossing them raw into the stew) really brings out their sweetness and flavour.
Pheasant stew with mushrooms, oven baked shallots and Puy lentils recipe
Preheat the oven (220c/200c fan) for the baked onions
Ingredients:
1 brace of pheasant (hung for three days, skinned and drawn)
8 banana shallots peeled and halved crossways
1.5 pints of chicken stock (hot)
Small glass of red wine
10g of porcini mushrooms soaked in 0.5 pint of boiling water (secret ingredient)
250g of quartered chestnut mushrooms
200g of Puy lentils
? a large onion (chopped) and a tablespoonful of olive oil for sweating them
6 slices of streaky bacon cut into 0.5 inch strips
2 cloves of garlic (crushed)
1 tsp of mixed Italian herbs
10 black peppercorns
5 juniper berries
2 teaspoonfuls of balsamic vinegar
2 teaspoonfuls of olive oil
Method:
Gently heat a tablespoon of olive oil in a large saucepan. Sweat the chopped onion and crushed garlic for 15 minutes.
Add the streaky bacon to the onions in the saucepan and gently fry (lid off) for a few minutes.
Place the peeled and halved banana shallots on their ends in a baking dish so that they are sitting up. Drizzle with the olive oil and balsamic vinegar and bake in the oven for 20 minutes (220c/200c fan). Remove to add to the stew later.
Meanwhile add the porcini mushrooms to half a pint of boiling water and allow to seep for five minutes. Chop these and add them to the stew with the pheasant (retain the mushroom infused water to add to the stew).
Roughly quarter the birds and add to the saucepan. Add the chicken stock, mushroom water, herbs, red wine, peppercorns and juniper berries and bring to a slow simmer.
Simmer very gently for 45 minutes, turn the birds and simmer for 20 minutes.
Add the quartered mushrooms, baked shallots and lentils and simmer for a further 20 minutes.
Skim off the fat and thicken the sauce, if necessary with a tablespoon of flour (made into a paste using the liquid from the stew).
Serve in warm bowls with a garnish of parsley, fresh, warm granary bread and a green salad.
*You can find out more about the 'Waiter There's Something In My…' blog events here:
http://www.spittoonextra.biz/waiter_theres_something_in_my_1.html
Leave a reply