Guest Spot: Roast Sweet Potatoes with Peppers, Chilli and Feta Cheese Recipe by Katherine Dodd and Paul Arguile
Posted by Fiona Nevile in Vegetarian | 1 comment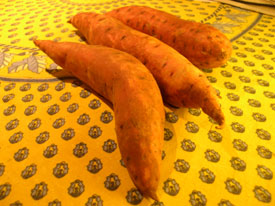 Katherine and Paul, joined us for a late lunch with our old friends Jocelyn and Miles last weekend. They are delightful city fresh busy people with loads of plans. Real foodies with a buzz. The mix was perfect.
We ate our Spanish lamb and Paul and Katherine retaliated with the generous offer of contributing a guest blog. We kept on pouring the wine until there was no going back. This recipe is delicious and is one of the few vegetarian dishes that Danny will happily eat.
Guest spot: Roast Sweet Potatoes with Peppers, Chilli and Feta Cheese Recipe by Katherine Dodd and Paul Arguile
Paul and I live in Central London. "Central" – with a capital C – meaning Zone 1 of the Tube map, with its roaring traffic, wailing sirens and weary workers striding along pavements with tight faces.
Living in close proximity to Portobello Market, we can't really complain too much about our location, but sometimes when the noise and pollution gets too much I daydream of a more self-sufficient life in altogether healthier surroundings. At this time of year, when it's dark as the Tube swallows you up in the morning, and dark when it spits you out again at the end of the day, the thought of coming home to a lamp-lit cottage warmed with a sweet-smelling, crackling log fire is a comforting one.
The mental picture I paint is, of course, miraculously untainted by any complication – no rats in basements, no cleaning out of chicken sheds in the cold rain, no digging out of weeds from kitchen gardens while it's sleeting. No, I imagine an idyllic life, where the evening meal might be of buttery sweet potatoes, nonchalantly dug up just that morning from the plot outside the kitchen door, roasted and emerging golden and steaming straight from the Aga, lovingly smeared with local farm butter and encrusted perhaps with a cheese we made ourselves in a back shed using the milk, rather cleverly, from our very own goat (Gertrude, I think we'd call her).
Accepting that we are in all other ways lucky to live where we do, we are fortunate to get a glimpse into this Other World through the window of our local markets. We are blessed not only with the abundant Portobello Market which runs adjacent to our house, but also with the local Farmers' Market which is open every Saturday in the car park behind the Waterstone's in Notting Hill Gate. The approach of Autumn is reflected by the suddenly augmented stock on offer by our local Mushroom Seller there, or by the teetering mountains of pumpkins and sweet potatoes on the Portobello Market stalls, or by the aroma of the organic butcher's sizzling sausages in granary rolls, more welcome now the stifling heat of summer '06 is a distant memory.
Faced with this abundance of autumnal produce, we like to Get Cosy on ourselves. One day we came home with a couple of fat, pink sweet potatoes, a selection of mis-shapen peppers and some feta cheese from the local olive-sundried-tomato-tapenarde-marinated-feta-cheese (amongst other things) seller. With these, Paul made the most fabulously comforting and sweet-tasting supper dish, almost as good as a warm hug from an overstuffed armchair by a roaring fire. As I say, we can't complain. We get by – even if sometimes we have to invite ourselves to a real cosy countryside cottage every now and again to keep us going through the grey city winter.
Here's Paul's Recipe for Roast Sweet Potatoes with Peppers, Chilli and Feta Cheese:
(Quantities below are for one serving; multiply accordingly to how many you have around your table)
Ingredients:
¢ 1 large sweet potato per person
¢ Small red onion, sliced
¢ Clove of garlic, crushed
¢ Small red chilli, finely chopped
¢ Knob of butter
¢ 1 tbsp olive oil
¢ 1 tbsp parsley, finely chopped
¢ Half a slab of feta cheese
¢ Half each of a red, yellow and green pepper, cut into 2cm square pieces
¢ Salt and pepper to taste
Choose the kind of sweet potato that's pinky-orange inside. Stick in the oven for about 40 minutes at about 180ï'°, or until its yields slightly when you squeeze it. Small spots of toffee-like liquid oozing from the spud will tell you that it's more than well done and will become mush in not too short a space of time, so beware. Sweet potatoes seem to hold more liquid than regular ones. This is certainly worth bearing in mind if you're planning on making mashed potatoes, which we're not here, but I thought you might be interested anyway.
While these little fellas are cooking, fry up the onion, along with the peppers, crushed garlic and chopped chilli. They taste good in butter but the olive oil will prevent it from burning. About 15 to 20 mins should be enough to soften the veg without overdoing them. Put the pan to one side, mix in the chopped parsley and the crumbled-up feta cheese, then season. Plenty of pepper is good but go easy on the salt as feta cheese is already quite salty. Slice the potato open, squidging it slightly to make a hollow, then dollop in the mixture and serve.
Leave a reply