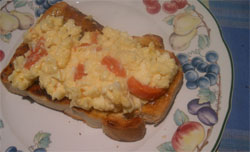 Just before I met Danny, I went to Ireland for the first time to attend a bread making course at the Ballymaloe Cookery School. For the duration of the course my sister and I stayed at the Shanagarry Guest House which was walking distance from the school, although I think we drove the 200 yards every day. Partly laziness but mainly on account of the breakfast, which was excellent and forced one to linger until the last possible moment.
The couple who owned the guest house were charming. The husband was a rugby coach for the Irish team and every evening the house was filled with rugby enthusiasts. Their children, Siobhan and Barry were rugby fanatics too. With a large V&T in hand I would offer cash prizes (small change) for the best kick or save. Siobhan generally won.
This was the first time that I had tasted the wicked combination of scrambled egg and smoked salmon for breakfast. The husband, offered several other tantalising breakfast dishes. All were great but this was by far the best.
Scrambled eggs need to be eaten as soon as they are ready. So never offer it to anyone who is not sitting at the table, knife and fork to hand.
Perfect scrambled eggs with smoked salmon recipe(for two)
Ingredients:
4 large eggs
1 knob of butter (15g)
1 splosh (sherry glass) of milk
1 slice of good smoked salmon (wild is best)
Method:
Cut one decent slice of smoked salmon into thin slices (0.5 cm)
Melt the butter gently in the saucepan
Meanwhile beat the eggs with the milk and add this mixture to the pan when the butter has melted
Put two fat slices of bread in the toaster.
Over a low heat, keep on stirring the mixture until it looks nearly cooked. Whip it off the heat (it continues to cook). Stir in the slivers of smoked salmon. The heat of the eggs will warm them through. Spoon onto the buttered toast and serve.
If you are not given a round of applause after the first bite find another partner.
Tricks and tips:
Avoid tears and use a non stick saucepan for scrambled egg. Or soak it immediately.
Although it is nearly ten years since I stayed at the Shanagarry Guest House, the Ballymaloe Cookery School still recommends it. Contact details are:
Shanagarry Guest House, Shanagarry, Co Cork, Ireland. Phone: 353 (0) 21 464 6963
Leave a reply