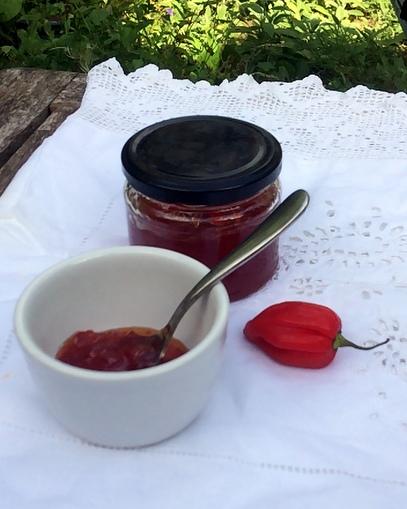 When I visit Seraphina on the Isle of Wight I always fit in a trip to The Garlic Farm.
They have a good restaurant and a wonderful little shop packed full of foodie delights, and of course garlic in all its forms. This is where I had my first taste of their Red Pepper, Garlic and Chilli Jam. I put two jars straight in my basket.
My Red Pepper, Garlic and Chilli Jam is inspired by their delicious savoury jam. It is such a versatile preserve – spread on oatcakes with a little cheese on top, a blob beside a rich pate, a relish for sausages. A teaspoon or two in a salad dressing is gorgeous. I could go on and on. My neighbour Gray has even stirred it into pasta for his kids.
My jam has more heat than the Garlic Farm one. Not blow your head off heat but a rather elegant tingle that stays in the mouth for a while.
I would encourage you to use a food processor to do the chopping, if you have one. I still haven't found my Magimix blade so toiled a bit over the chopping that seemed to go on for hours.
I also find that splitting the Bird's Eye chillies and washing the seed out under a gently running cold tap makes de seeding easy. Don't trim out the membrane of the chillies as this is where a lot of the heat is.
I am thrilled with this chilli jam – the deep red colour makes it a great choice for homemade Christmas hampers.
Red Pepper and Chilli Jam Recipe
Ingredients:
1200g or 6 cups white granulated sugar
700g or 4 1/2 sweet red peppers – deseeded and chopped into squares – about 1 cm
470ml or just under 2 cups white wine vinegar
25g or 0.8 oz of red birds eye chillies – deseeded and chopped fine
75g or 2.6 oz of medium heat red chillies – deseeded and chopped fine – the two types of chillies fill about 1/2 cup
36g or 1/4 fresh onions – chopped very fine
25g or 0.8 oz of crushed garlic
1 tsp of Salt
80ml or 1/3 cup of liquid pectin
2 tbsp of lemon juice
Method:
Put all the ingredients into a large heavy bottomed pan or ideally a maslin pan and stir over a low heat until the sugar has dissolved
Up the heat and bring the mixture to a rolling boil for 20 mins stirring every now and then. Take the saucepan off the heat to test for set. If the jam has not reached setting point boil for another 5 minutes, then remove from the heat and test again. My jam took about 25 minutes to set. It was slightly runny which is what you want as it will continue to set in the jar
Pour into hot sterilised jars and seal immediately with plastic lined lids. As the jam gradually set in the jars I turned them over and over every ten minutes to distribute the pepper and chilli pieces evenly though the jam. Store in a cool dry place and refrigerate once opened
This made enough to fill 4 x 400ml jars
Leave a reply