Book review: Don't try this at Home. Culinary Catastrophes from the World's Greatest Cooks and Chefs edited by Kimberley Witherspoon and Andrew Friedman
Posted by Fiona Nevile in Reviews | 6 comments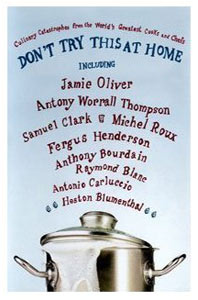 Last summer my friend Anna gave me Don't try this at home
when I passed the audition for Britain's Best Dish. There's nothing to equal an off the cuff surprise present and this fitted the bill perfectly.
It is a brilliant collection of culinary disaster anecdotes from 33 of the world's most prominent chefs, from Anthony Bourdain to Heston Blumenthal. The book has delighted me ever since I opened it in her sunny garden way back in June.
In the precarious world of celebrity cheffing, a major culinary disaster could spell death if not handled with expert care. It is, after all a passionate world of heat, egos (all shoe sizes) and large, highly sharpened knives.
The book is a fascinating read. Not the sort of tome that one would pick up and read cover to cover. I've read a few chapters on and off over the past six months. This book has been beside the loo, the bed and lolled on Jalopy's front seat and I still have a few more catastrophes to go. It is perfect reading for when I am feeling out of sorts.
Perhaps the most revealing part is the few innocent questions that are asked at the end of each section:
What do you eat for breakfast?
What dish would you cook in order to seduce someone?
What do you never cook?
What's the one dish you find hard to get right?
At first I ignored these sections. Then I read them. Last week I started to compare the results. I've found that these answers are so are enlightening that it's almost worth buying the book just to read them. Great editorial inspiration from Kimberley Witherspoon and Andrew Friedman. The perfect present for a curious foodie.
Leave a reply