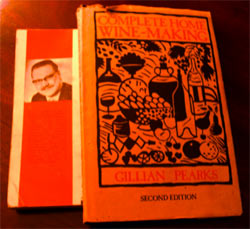 Back in the seventies, when buying a bottle of wine was an expensive treat, the author C. J. J. Berry shot to fame with his series of amateur winemaking books. This is the rather smooth looking character on the left. He cashed in on the great home winemaking boom of the sixties and seventies.
As glugable wine began to fill supermarket shelves, the home winemaking craze declined and you could often find his books in charity shops. Now that country winemaking is enjoying a small renaissance his books are becoming sought after again. The best of his tomes First Steps in Winemaking
, has everything you need to know from selecting equipment to an extensive list of winemaking recipes. It even advises the ultra enthusiastic on how to organise a wine competition.
The recipes are grouped in monthly sections, so whenever you feel the irrepressible urge to make wine there is a good selection of seasonal recipes to choose from. The book is well written and packed with tips and useful information. It didn't surprise me when I heard that Berry had been a newspaper editor. My copy, from 1980, lives in a pile of books beside our bed, between Tove Jansson's Finn Family Moomintroll
and The Essential Rumi
. All great books to while away a sleepless night.
The other book that I have is a small hardback Complete Home Winemaking
by Gillian Pearks first published in 1962. This beautiful book is a much simpler animal than those in the C. J. J. Berry stable. It has all the essential information, useful tips and a calm clear style. Her recipes work well and include a range of liqueurs. If you ever find a copy of this book, snap it up and treasure it. Ours lives in the kitchen as this is my favourite winemaking companion and has become a true friend.
Update March 2007. Discovering Country Winemaking
by Daphne More. This is a great winemaking book that I use a lot. Daphne More tries to avoid using chemicals and ofers sound advice. Worth adding to any winemaking library.
Leave a reply