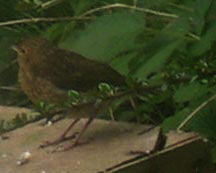 I wrote a post at the beginning of April about the pair of robins living in our garden.
A few days ago I glanced out of the window and saw a robin feeding a small fat brown speckled bird. This was so unusual that I stopped and waited. It had to be a baby robin.
The adult robin flew to the fat ball and back to feed this little chap for a good five minutes until something startled them and they both shot back into the undergrowth behind the Japonica, where they must have a nest.
Robins are ground feeders but they can access fat balls easily if you hang hang them on the lids of bird feeders. And we get to see the show as the feeders are attached to the winter flowering honeysuckle just outside the kitchen window.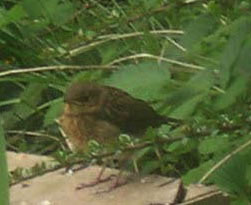 Within a couple of days we spotted that the baby robin had become more adventurous, flying solo to indulge at the Fat Ball Restaurant. As I watched him feed, a mouse crept along a branch to take some seed from the feeder. Tiny, quick, gentle movements. She curled her tail around a branch for stability as she stretched for the grain.
We discovered a Marie Celeste mouse nest in Danny's shed the other day. It was filled with black sunflower seeds (a favourite with greenfinches). It must have taken many mouse miles to build up such a large store. Even though D doesn't want mice in his shed he was concerned. What had happened to the mice and why had they left the seeds?
The garden is teeming with life. So much of it passes unnoticed.
Leave a reply