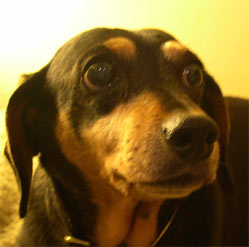 Many years ago my mum was given Great Aunt Daisy Beatyl by a couple of generous Miniature Dachshund breeders. She was five years old and needed a good home.
We motored into the country to collect her. As far as I can remember it was quite a long drive and they questioned us carefully about her future. I agreed that if something happened to my mum I would look after Daisy B. As we piled into the car to leave, Gloria wiped a tear away. She had confided that she would have loved to have kept the dog but her husband had drawn the line at more than five dogs in the house.
Daisy Beatyl was a youngish dog, looking for affection and love. She got this from my mum. As well as walks, treats, hours snuggled on the sofa and the occasional wonderful distraction such as the rabbit hutch sited on the other side of her fence in the next door garden. The rabbits survived but tantalised and entertained her for months.
I had a soft spot for DB from the word go. Her beautiful eyes would have tempted the shyest suitor. And they had. She'd mothered a couple of litters before she came to live with my mum.
Over the past couple of years, Great Aunt Daisy Beatyl has gradually moved from being a stylish city dog to sedate retirement in the country cottage where she had holidayed all her life. We have a dog flap, which is ideal for an older dog that needs her own key to the garden.
As senior dog she kept the Min Pins in line and us too. Welcoming me home with the softest nuzzley, toothy reminder that it was suppertime. After this she would flit, sausage like and deft between my feet, demanding food.
Opening her mouth to take a small piece of bread at lunch time today, I noticed a large bright red blood clot in her mouth.
The young vet was kind and gentle as he explained that she had cancer. She was dying and that it would be best to put her down. He was surprised that she could stand on the examination table.
But that was Great Aunt Daisy Beatyl, stoical, trusting and a real trooper right to the end.
Leave a reply