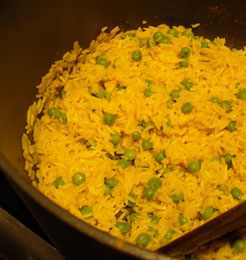 Danny snaked back from the post run last night holding a Waitrose curry aloft. Like the Olympic torch.
"£3.99 down to £1.49. We couldn't make it for that price," he beamed.
Danny is a chicken Korma sort of guy. He doesn't like hot, spicy food.
"But you only eat mild curries and this is a Vindaloo – look, it's got a 3 chilli rating."
"Oh."
"Never mind.  I'll whistle up some dishes that will cool down the heat. And we can try Sam's  rice dish."
Apart from having healing hands in common, both Sam and I adore food and creating new dishes. Lots of recipes are exchanged at his organic food stand in the Ridgeon's (UK builders providers chain) car park. Sam inspired me to bake my first non- Christmas cake a couple of weeks ago. A wonderful light Victoria sponge that had Danny eating cake for breakfast, lunch and tea.
This week he gave me a recipe for a rice dish that sounded stunning.
"It would be great with that curried fish dish."
It was delicious last night with the chicken Vindaloo and it was great served cold for lunch. Tasty rather than spicy, we loved it.
Sam you are a star. Thank you.
I made a cucumber, mint and yoghurt raita. And a very simple salad of salad bowl lettuce leaves (cut and come again) little gem lettuce hearts and highly flavoured spring onions with just a dash of lemon infused white wine vinegar. I also sliced a banana as a side dish – this cools a hot curry very well.
Sam Raithatha's gently spiced rice (for three)
1 tblsp of ghee (we had run out so I used a walnut sized knob of butter and a splash of olive oil)
200g of Basmati rice
2 man sized handfuls of frozen peas (I used Garden Peas rather than Petit Pois)
Double the (rice) volume of water (mine was 400ml)
Half tsp of cumin
1 tsp of turmeric
Salt and pepper to taste
Method:
Heat the ghee (or olive oil and butter) gently in a large heavy bottomed saucepan.
Add the cumin and the rice and stir until the rice has become translucent.
Add the water, the frozen peas and follow the manufacturer's instructions for cooking the rice. Ours takes about 10 minutes to cook, simmering gently with the lid on.
Finally add the turmeric and salt and pepper to taste. (I added lemon juice rather than salt which worked well.)
Leave a reply