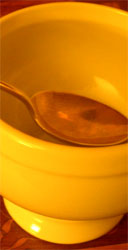 Every few days I trawl through the search terms that have bought people to the Cottage Smallholder site. It's worth doing as it exposes gaps in our content. Every search is related to words on the site, but sometimes the relationship is tenuous.
Was the search for 'mouse and woodpigeon soup' a joke? I've not eaten mouse and if it were proffered, I don't think I'd be keen. A quail is fiddly enough. I must admit that I've enjoyed eating pigeon and these definitely weren't the scrappy residents of Trafalgar Square that used to land on my office window sill. Albeit tatty, the same ones returned every day. They became friends.
Many of these mis-searches are tantalising, especially if I know the answer. I often think, if only I had an email address, I could contact them. Then I spot a search term that makes me grateful that there is no return to sender. There is a large fraternity of would-be poisoners out there.
Recently we had these searches, in just one day.
"convector heater poisoning".
Half an hour later, "poisoning food for dogs".
Followed by the chilling, "last supper liquid poison".
Swiftly succeeded by, "liquid cement + Homebase"
Was it the same person or totally separate searches? Whose dog was it anyway?
When I get concerned, Danny is a soothing companion. "Look at these," he cajoled, distracting my attention.
"How many eggs does a chicken lay in a week?"
"How many eggs does a chicken lay each day?"
Yeah. I'd seen those before. But then he found a claasic:
"How many eggs does a chicken lay an hour?"
Someone out there was desperate for an omelette. Suddenly I was hooked, poisoning forgotten.
All was well until I spotted some sad ones: "why dog's back legs give out", "why is my dog paralysed" and the desperate, "sick newt".
Actors are advised not to read their reviews. Perhaps bloggers shouldn't read the visitor's search terms for their site. Be warned, it's always a switchback ride.
Leave a reply