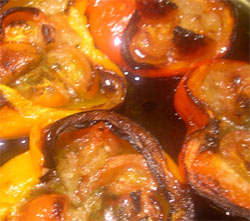 I love seasonal cooking. The arrival of Winter Celery, beetroot and asparagus has tiny hands clapping with glee at the Cottage Smallholder. But we still buy tomatoes and peppers throughout the year. I look at the little aeroplane label on the pack and feel a twinge of guilt as I place them carefully in the delicates section of my trolley.
There are many ways of preserving these summer harvests for winter use. Perhaps this year I will finally get my act together and bottle them. Oded Schwartz's Preserving book has loads of great recipes and methods.
It was Danny's turn to cook this evening but the dark circles around his eyes inspired me to make an experimental veg dish that he could pop into the oven with the baked potatoes when the time came. I used to love Delia's Piedmont Roasted Peppers and was thinking of preparing these but then I remembered the bizarre combination of ingredients that I have discovered. These seem to enhance the flavour of almost any vegetable. Pesto and preserved lemons. So I returned the anchovies to the fridge and used these instead. Somehow, if I am preparing a dish for someone else's meal I feel far more relaxed and intuitive.
Having left the dish with instructions, I was thinking about seasonal cooking as Jalopy and I chugged down the High Street this morning. The great thing about blogging is that someone somewhere in the world is reading a recipe that is seasonal. In the Southern hemisphere tomatoes, peppers are being harvested right now.
So if you are a purist seasonal chef, in New Zealand or Australia, this recipe is for you. I was intrigued as to how these peppers would turn out when I reversed into the drive this evening. They smelt good when I pushed open the front door.
We loved the light summery flavours on a dark, bitterly cold winter's evening. The result was stunning. Distinctive. Fresh, melt in the mouth flavours and a dish to die for. Or at least feign death if you want to eat it the next morning.
We enjoyed these peppers with cold roast chicken and small baked potatoes – perfect for absorbing the juices. They'd be great with fish too and would cut through the fattiness of lamb (chops or a joint). The juices are good so if you serve this as a starter, don't forget to put good bread on the table.
Baked red bell peppers with tomatoes, pesto and preserved lemons recipe (for 2)
Ingredients:
2 red bell peppers
1 fat clove of garlic (chopped very fine)
An eighth of a preserved lemon chopped very fine (available from all good supermarket
2 teaspoonfuls of pesto
8 – 10 quartered baby tomatoes (I left the skins on for flavour)
4 tablespoonfuls of extra virgin olive oil (plus a bit extra if these are big peppers. The oil need to fill at least half way up the side of the half pepper).
4 large teaspoonfuls of dry white wine
Freshly milled black pepper
salt to taste
Method:
Slice the bell peppers in two and remove the seeds.
Place the halved peppers in an oven proof quiche dish, roasting dish or similar low sided receptacle.
Divide the chopped garlic, preserved lemons and pesto between the 4 halves of pepper. Add the tomatoes and pour over the olive oil and white wine.
Season with ground black pepper and bake for 50-60 minutes at !90c (170c fan). If you are serving this as a starter, make sure that you have good crusty bread on the table. (Discard The blackened edges – these indicate that the rest of the peppers will be melt in the mouth.)
Leave a reply